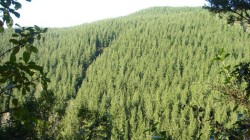 Thursday - Proposed changes to the Emissions Trading Scheme alone will not trigger the forestry planting levels New Zealand needs to cut emissions – agriculture must be brought into the scheme, says one of the country's largest forest companies.

Wednesday - The National Party's climate portfolio remains in the hands of Todd Muller, who kicked off the year with a row over whether his party is ambitious or a climate laggard.

21 Dec 18 - The Government says the current cap on the price of carbon needs to stay in place while the Emissions Trading Scheme is reviewed.

19 Dec 18 - New Zealand has joined countries committed to a zero-emissions transport system.

17 Dec 18 - New Zealand will start phasing out the use of climate-damaging hydrofluorocarbons from 2020.

14 Dec 18 - A group set up to advise the Government on the role of forestry in cutting greenhouse gas emissions says the real answer is reducing livestock numbers.

12 Dec 18 - A cap on emissions, a system to manage carbon credits supply and prices, the inclusion of permanent forests, and the possibility of a price a price floor are the major changes to the Emissions Trading Scheme just announced by the Government.
---
12 Dec 18 - Using revenue from the Emissions Trading Scheme to fund carbon sequestration by farmers is one of the options the Government is considering as it opens discussion with other countries on ways of...
12 Dec 18 - New Zealand's efforts on climate change remain "highly insufficient" and consistent with twice the level of warming that scientists say we should not go beyond.
11 Dec 18 - New Zealand will not use carried-over Kyoto carbon credits to meet its 2030 emissions reduction target, the Government says.
10 Dec 18 - New Zealand's largest farmer, State-owned Pamu, has triggered outrage in some circles by telling the Government's Tax Working Group that it supports some environmental taxes.
7 Dec 18 - Another report has confirmed that New Zealand cannot meet its Paris Agreement commitments without reducing the number of farm animals – and says that carbon prices up to $80 a tonne are needed to do...
6 Dec 18 - New reports on drought and sea-level rise highlight New Zealand's lack of preparation for the impacts of climate change.
5 Dec 18 - Angel investor and independent director Cecilia Tarrant is to head the Government's $100 million Green Investment Fund.
3 Dec 18 - New Zealand is one of three countries leading the charge to the new economy – but it's got no right to call itself a developed country, says Doughnut Economics founder Kate Raworth.
30 Nov 18 - Treasury has suggested the Government delay setting a 2050 emissions reduction target, saying giving the decision to the yet-to-be-established climate commission would allow more time to decide by...
28 Nov 18 - The National Party says the Government is "confused" over hydrogen technology and the use of natural gas.
27 Nov 18 - New Zealand should keep producing food and buy international carbon credits to cover its greenhouse gas emissions, says fertiliser co-operative Ravensdown.
21 Nov 18 - New Zealand needs an impact investment plan to push financing of the new economy, says a report out today.
---