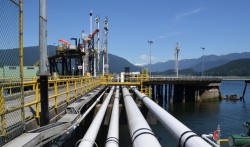 Today 11:00am - Canadian Prime Minister Justin Trudeau has given the green light for a second time to a $5.5 billion pipeline expansion that has attracted strong opposition from environmentalists and some indigenous groups.

Today 11:00am - Defending against rising seas could cost US communities $416 billion in the next 20 years, according to a new report.

Today 11:00am - Australia's Northern Territory has a multi-billion dollar opportunity to invest massively in renewables, create a new hydrogen export industry, and create thousands of jobs, says a new report.
Today 11:00am - Here is the long-term forecast: Rain will become more torrential, flash floods more frequent. Very heavy rain is a simple response to global temperatures.

Today 11:00am - US spy satellites that secretly kept watch over the Himalayas during the Cold War are helping researchers piece together the most detailed view yet of the region's accelerating ice loss.
Thursday - Morocco, Gambia, Bhutan, Costa Rica, Ethiopia, India and the Philippines are the good guys.

Thursday - New York politicians have reached a deal to create one of the most ambitious climate bills in the US, putting the progressive state on the front lines of fight over the environment.
---
Thursday - The UK is set to host a critical global summit on the climate crisis at the end of 2020, at which the world's 190 nations must commit to deep cuts in emissions.
Thursday - Australia has been warned it risks "drifting into the future" if it fails to respond to challenges in a fast-changing world.
Thursday - The Florida city of Deerfield has put 633 divers into the water in what it claims is the world's largest underwater clean-up.
Wednesday - Some of the major oil producers have pledged to support "economically meaningful" carbon pricing regimes after a personal appeal from Pope Francis.
Wednesday - Humans' ability to survive and adapt to the changing climate might come down to microbes.
Wednesday - Engineers say there is no technical reason why hydrogen cannot replace natural gas to make electricity, heat homes and for cooking.
Wednesday - Germany, Greece, Italy and Slovenia have added their names to a growing list of EU countries supporting a carbon neutrality objective for 2050, increasing the chances that a deal will be struck at a...
Wednesday - Thirteen journalists who were investigating damage to the environment have been killed in recent years and many more are suffering violence, harassment, intimidation and lawsuits.
Tuesday - A depressing picture of global power generation has coal still firmly on top. And in a vicious cycle, the very heatwaves and winter freezes that high carbon emissions cause seem to be increasing them.
Tuesday - A warmer world will be more dangerous. As the thermometer rises, so does the risk of conflict and bloodshed in more vulnerable regions.
Tuesday - Ireland has unveiled an ambitious plan to tackle the climate emergency by weaning the state, businesses, farms and households off fossil fuels.
Tuesday - Drought-hit Namibia has authorised the sale of at least 1000 wild animals – including elephants and giraffes – to limit loss of life and to raise money for conservation.
---