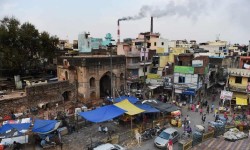 Wednesday - The world has so many existing fossil fuel projects that it cannot afford to build any more polluting infrastructure without busting international climate change goals, the global energy watchdog has warned.

Wednesday - The UK, France and Germany have called on the European Commission to launch tough new action to halt deforestation by the end of the year.

Wednesday - As the price of renewable energy drops and storage technologies mature, hydrogen fuel is drawing fresh attention.

Wednesday - In recent years, Spain has been a graveyard for climate-friendly policies. But there are signs the dead may be twitching back to life.

Wednesday - It's been invaded and bombed, had a third of its territory taken over by terrorist groups, hundreds of thousands have been killed and much of its infrastructure has been destroyed. Now, Iraq has climate change to worry about.

Wednesday - Decades after plastic became part of the fabric of our lives, a worldwide revolt against its use is under way.

Tuesday - Top oil and gas companies jointly spent around 1 per cent of their 2018 budgets on clean energy, a new study shows.
---
Tuesday - They've taken on polluters and built climate solutions. Now they're bringing activism to Congress in one of the most diverse freshmen classes in US House history.
Tuesday - In 2018, humanity will pump more carbon dioxide into the atmosphere than ever, and yet last year was a record year for renewable energy. What gives?
Tuesday - A 30-year analysis of Amazonian trees finds the world's largest rainforest is already adapting to climate change, but probably not fast enough.
Tuesday - Could rain-sodden Britain become the hot new wine producer?
Tuesday - Since his first day on the job, when he surrounded himself with a police escort and rode through Washington on a horse named Tonto, US Interior Secretary Ryan Zinke has exhibited a flair for...
Monday - Large asset managers could play a pivotal role in safeguarding the Amazon forest, a new report shows, amid concerns Brazil's president-elect Jair Bolsonaro could strip the planet of its lungs.
Monday - China will be urged to crack down on illegal CFC-11 production under an international declaration set for adoption at a meeting in Ecuador this week.
Monday - Germany has earmarked one billion euros to support a consortium looking to produce electric car battery cells and plans to fund a research facility to develop next-generation solid-state batteries.
Monday - Scientists once again have confirmed that humankind's actions have triggered ever-greater extremes of rainfall – and an ever-greater rise in disastrous flash floods.
Monday - A writer at the top of his game considers climate change, what we can do and what keeps him from despair.
Friday - The Carbon Clock showing how much time the world has left before it exhausts its carbon budget has been set back a fraction.
Friday - John F. Kennedy was warned about "climate control" in February 1961, becoming perhaps the first American president to learn about people's impact on planetary temperatures.
---