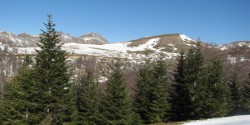 Tuesday - Foresters are being urged to plant tree species resilient to climate change to save the timber industry as Swiss trees swelter.

Monday - Norway has the renewable resources and political will to become the first country to use entirely clean electricity for its power demands.

18 Aug 17 - Supermarkets selling out-of-date produce and apps that identify food at risk of being binned are part of an ambitious plan to slash the nation's food waste

17 Aug 17 - An agreement to link the Swiss and European Union carbon markets could pave the way for other markets to link to the EU emissions trading scheme in future, says the International Emissions Trading Association.

16 Aug 17 - Despite public denials, the European Commission is considering implementing an electric car quota to be achieved by automakers by 2030.

15 Aug 17 - Norway's plan to ramp up oil and gas production in the Arctic threatens global efforts to tackle climate change, according to a new study.

15 Aug 17 - New studies confirm climate change's triple risk to Europe. The heat is on, lives are at risk and the floods are arriving earlier.
---
8 Aug 17 - A consortium of clean energy developers has applied for permission to build a gigantic solar power plant on the edge of the Sahara desert which could power more than five million EU homes.
7 Aug 17 - Swiss police say hundreds of bodies of mountaineers who have gone missing in the Alps in the past century could emerge in coming years as global warming forces the country's glaciers to retreat.
3 Aug 17 - Tough air pollution limits for Europe's coal plants announced on Monday could be engulfed in a firestorm of lawsuits and counter-suits, Climate Home has learned.
31 Jul 17 - The European Union's top court has ordered Poland to immediate halt large-scale logging in a Unesco-listed ancient forest.
31 Jul 17 - The first half of 2017 saw 6.1 gigawatts of extra wind power capacity installed in Europe. But a lack of long-term political commitment has hit investment and market concentration remains problematic.
26 Jul 17 - A group of UK businesses and investors have written to Prime MInister Theresa May, urging her to raise the country's ambitions to tackle climate change.
26 Jul 17 - French and German cities using trams to move products are showing how to cut congestion while making a profit from the network.
21 Jul 17 - Hundreds of climate scientists, including many from the United States, have applied to work in France under a multi-million dollar scheme set up by President Emmanuel Macron.
20 Jul 17 - The European Union has accepted a UN ruling that found the bloc in breach of international laws requiring the public to have access to justice on environmental matters.
13 Jul 17 - Plans to increase logging in Finnish forests will have dire impacts on the climate; yet the Finnish government is ignoring evidence and denigrating scientists.
12 Jul 17 - Climate change could affect labour productivity – at least in the wine industry, new research suggests.
7 Jul 17 - According to a new law, rooftops on new buildings in commercial zones across France must either be partially covered in plants or solar panels.
---