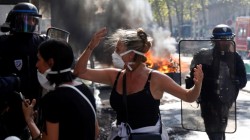 Monday - The Earth had its hottest January in recorded history last month, according to the National Oceanic and Atmospheric Administration.

Monday - Australia's leading economic regulator has warned that climate change is already having a "profound" effect on the Australian economy, dragging down production, the value of Australian exports and the confidence of Australian consumers.

Monday - Christiana Figueres, leader of the 2015 Paris Agreement, talks about her new book, The Future We Choose, and why it's crunch time for humanity.

Monday - As the climate warms in the decades ahead, billions of acres, most of them in the northern hemisphere, will become suitable for agriculture and could, if ploughed, emit a massive, planet-altering amount of greenhouse gases.
Monday - Sydney is looking at using its public transport system to cut the number of delivery vans clogging its streets.

Friday - BP's new chief executive Bernard Looney has outlined plans to cut the company's carbon emissions from its operations and barrels produced to net-zero by 2050.

Friday - In the United States, once the home of car culture, cities are increasingly experimenting with free public transport. But the idea is not an American preserve: it's catching on fast across the globe.
---
Friday - Mass melting of the West Antarctic ice sheet, driven by warmer ocean temperatures, was a major cause of extreme sea level rise more than 100,000 years ago, according to new research.
Friday - By ANDREW SPENCE | Australian mining company Oz Minerals plans to power its proposed West Musgrave copper nickel mine in central Australia with up to 80 per cent renewables.
Friday - Two scientific studies of the number of insects splattered by cars have revealed a huge decline in abundance at European sites in two decades.
Thursday - Air pollution from burning fossil fuels is responsible for more than 4 million premature deaths around the world each year and costs the global economy about $US8 billion ($NZ12.37 billion) a day,...
Thursday - President Trump's proposed budget for fiscal 2021 calls for significant reductions to US environmental programmes at federal agencies, including a 26 per cent cut to the Environmental Protection...
Thursday - From public transport to cycling, sustainable transport is on course to overtake driving in the world's biggest cities within a decade, according to a new study.
Thursday - An international team of scientists has developed a cheap way to provide fresh water to thirsty communities by making seawater drinkable without using electricity.
Thursday - The BBC will produce a television series about 17-year-old climate activist Greta Thunberg.
Wednesday - The Green Swan brings a clear message from people who should know: bankers say the climate crisis means major change lies ahead.
Wednesday - Medical experts are concerned that young people's mental health is being particularly hit by reality of the climate crisis.
Wednesday - A series of detailed maps have laid bare the scale of possible forest fires, floods, droughts and deluges that Europe could face by the end of the century without urgent action to adapt to and...
Wednesday - Communities affected by the Australian bushfires are starting to reckon with a complex, expensive aftermath: the threat to their drinking water.
---