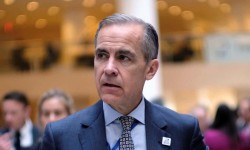 Tuesday - The global financial system faces an existential threat from climate change and must take urgent steps to reform, the governors of the Bank of England and France's central bank have warned.

Tuesday - Greta Thunberg, the 16-year-old Swedish environmental activist, has given her support for a general strike for the climate.

Tuesday - Fears over climate change have led many to rethink the way they travel and, in Sweden, they've even invented a new word for the shame associated with flying.

Tuesday - New York City has set an ambitious new standard for combating greenhouse gas emissions, approving a package of climate policies designed to slash energy use in big buildings.

18 Apr 19 - Global climate models developed for the UN are running hotter than they have in the past. Soon the world could be, too.

18 Apr 19 - Europe needs its own Green New Deal to stave off the perfect storm of populism, climate change and economic crisis.

18 Apr 19 - Finance ministers from 23 countries have pledged to back climate action through their policy, tax and spending decisions.
---
18 Apr 19 - Voters across Asia are most likely to usher in governments that take a stronger stance on climate change and other environmental issues, according to surveys released in the lead-up to national...
17 Apr 19 - China aims to complete and start generating power from an experimental nuclear fusion reactor by around 2040.
17 Apr 19 - Dr Joanne Chory hopes that genetic modifications to enhance plants' natural carbon-fixing traits could play a key role – but knows that time is short, for her and the planet.
17 Apr 19 - A Finnish political party that campaigned against ambitious climate change policies has won the second-highest number of seats in parliamentary elections.
17 Apr 19 - Search online for "climate change" and "tipping points" and you'll find some scary results.
17 Apr 19 - Microplastic is raining down on even remote mountaintops, a new study has revealed, with winds having the capacity to carry the pollution "anywhere and everywhere".
16 Apr 19 - Warm, dry winds in Antarctica can cause major melt as they sweep across the ice, even during frigid winter months.
16 Apr 19 - Thousands of people have blocked well-known landmarks and a bridge in central London, bringing widespread disruption to the capital in a "climate rebellion" that organisers say could last several...
16 Apr 19 - The Seychelles president has made a plea for stronger protection of the "beating blue heart of our planet", in a speech delivered from deep below the ocean's surface.
16 Apr 19 - Irrigation, drought, sea-level rise and more are causing salt to build up in soils around the world.
16 Apr 19 - Two British companies are joining forces to establish a plant which will turn plastic waste into hydrogen.
15 Apr 19 - Rio Tinto has signalled it is prepared to quit its membership of industry associations, including the Minerals Council, if the council makes public statements inconsistent with Australia's Paris...
---