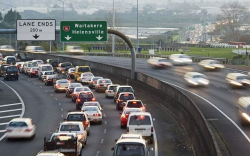 Friday - New Zealand's greenhouse gas emissions fell slightly in 2015 - but only because a drought forced dairy farmers to cut production.

Wednesday - Battery-making gigafactories are about to arrive in Europe, challenging Tesla and opening the way for a quicker shift toward green power for both cars and utilities.

Tuesday - Humans consume 221 tonnes of coal, 1066 barrels of oil, and 93,000 metric cubes of natural gas per second.

Tuesday - The International Seabed Authority is racing to draft regulations for the nascent deep-sea mining industry.

22 May 17 - Sharing energy-saving ideas such as using seawater pumps to heat buildings is helping big charities and businesses to cut costs while protecting the planet.

19 May 17 - Emissions resulting from potential new coal mines on the Buller plateau could put as much carbon dioxide into the atmosphere as another three million cars on New Zealand's roads for the next 20 years, an environmental group warns.

19 May 17 - Leaving the EU treaty that prevents radioactive waste falling into the wrong hands could prove costly for the UK nuclear industry.
---
19 May 17 - The largest wind turbines in the world have begun generating electricity off the coast of Liverpool.
18 May 17 - A push from developing countries to force fossil fuel lobbyists taking part in the Bonn climate talks to declare their conflicts of interest has won a significant battle against resistance from...
18 May 17 - An Indian coal-fired power plant is to be paid $150 million this financial year for generators that are sitting idle.
17 May 17 - New coal plants in Africa are largely being paid for by China and developed countries that are turning away from the technology at home.
16 May 17 - Forest Green Rovers, a club based in Stroud, western England, and believed to be the first well-known "vegan" football club, hit the big time on Sunday after winning a Wembley play-off to reach the...
15 May 17 - With oil prices remaining low, hopes of combating climate change through emissions reduction are improving as the oil industry shrinks.
15 May 17 - Oil extracted from tar sands is far more polluting than conventional hydrocarbons. The EU's decision to change the way it classifies the fuel is good news for Canadian exports and bad news for the...
12 May 17 - The Wood Energy South energy efficiency programme has prevented just 530 tonnes of carbon dioxide emissions being released, Parliament has heard.
12 May 17 - Wholesale solar power prices have reached another record low in India, faster than analysts predicted and further undercutting the price of fossil fuel-generated power in the country.
10 May 17 - Staggering sums of money involved in the long-term challenge of solving the world's nuclear waste problems make it a booming business.
9 May 17 - Renewable energy sources – including wind and solar – provided the majority of Germany's power over the weekend, generating more than 85 per cent of electricity on Sunday.
8 May 17 - The benefits of better home insulation are being cancelled out by the trend toward bigger houses.
---