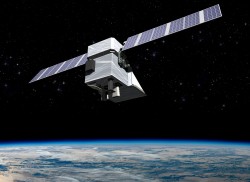 Today 11:45am - MEDIA RELEASE - New Zealand's first government funded space mission has taken a 'giant leap' with Auckland University's Te Pűnaha Âtea-Auckland Space Institute announced as the permanent host of the New Zealand based mission control centre for a global methane tracking satellite.

Today 11:45am - MEDIA RELEASE - An appeal for economic transformation at President Biden's Climate Summit, 22-23 April 2021

Today 11:45am - MEDIA RELEASE - The launch of Auckland CityLINK's 12 new electric buses today signals the end of the road for diesel urban buses according to the supplier of the buses.

Thursday - MEDIA RELEASE - An analysis by the International Trade Union Confederation has found that most new climate plans submitted by governments under the Paris Agreement on Climate Change lack sufficient ambition, Just Transition plans and social dialogue.

Wednesday - MEDIA RELEASE - In meeting virtually with President Joe Biden and 39 other world leaders, PM Jacinda Ardern should press home the need to confront the current global economic model based on limitless growth. 'It has failed us,' says Wise Response chair, Prof. Liz Slooten.

Tuesday - MEDIA RELEASE - Climate justice organisation 350 Aotearoa is celebrating the direction from the government for the Accident Compensation Corporation (ACC) to accelerate its moves to divest from investments in fossil fuels.
Monday - Media release - The United Nations Secretary-General, on Friday, called for a "revolution" in urban planning and urban transport to beat back impacts of climate change and build a green and sustainable future for all.
---
16 Apr 21 - Media Release - Oxygen Consulting in collaboration with the Sustainable Business Council (SBC), Sustainable Business Network (SBN) and Auckland University of Technology (AUT) have launched their 2021...
15 Apr 21 - MEDIA RELEASE - A leading forest free range farm will open today near Tokoroa in South Waikato, pioneering sustainable egg production in New Zealand.
14 Apr 21 - MEDIA RELEASE - Scientific Beta launches unique series of pure climate indices that translates companies' climate performance and alignment engagement into portfolio decisions
14 Apr 21 - Media Release - When Dr Christopher Cornwall began his biological research career, three unanswered questions bothered him about how climate change might affect marine organisms.
13 Apr 21 - MEDIA RELEASE: Covering Climate Now, a global journalism consortium of more than 460 news outlets with a combined audience of roughly 2 billion people, today launched our latest joint coverage week,...
12 Apr 21 - Media release - National has written to Climate Change Minister James Shaw calling for him to extend the report-back time on the Climate Change Commission Report, National's Climate Change...
9 Apr 21 - Just over a week since submissions closed on the Climate Change Commission's first draft advice to the Government, the commission says it is making good progress on reviewing feedback.
8 Apr 21 - With tropical fish and other marine creatures already shifting south along Australia's east coast, a new global study involving a USC ecology researcher has confirmed a drop in species numbers in...
7 Apr 21 - MEDIA RELEASE - Renewable LPG can supply New Zealand's LPG needs and achieve the emissions reductions proposed by the Climate Commission without the need to ban new connections, a new study shows.
7 Apr 21 - MEDIA RELEASE - MBIE is asking for feedback on whether New Zealanders think the Building Code should be updated to require more insulation in new homes and buildings. The proposals also suggest...
6 Apr 21 - MEDIA RELEASE - Apple has unveiled plans to become carbon neutral across its entire business, manufacturing supply chain, and product life cycle by 2030. The company is already carbon neutral today...
6 Apr 21 - MEDIA RELEASE - The Youth of NZ will once again be standing up for climate action on April 9th of 2021. From Auckland to Dunedin and everywhere in between we will demand fast and effective climate...
---