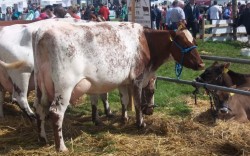 Wednesday - In what's being seen as a landmark judgement, Ireland's Supreme Court has ruled that the Dublin Government's policies on climate change are inadequate and has called for more action and clarity on the issue.

Friday - France's government has announced new environmental measures, including a ban on heated terraces for cafes and bars.

30 Jul 20 - The Dutch city of Arnhem is digging up asphalt roads and creating shady areas around busy shopping districts after concluding that the consequences of global heating are unavoidable.

29 Jul 20 - Deutsche Bank will end business worldwide with the companies most exposed to coal mining by 2025 at the latest, as part of a revamp of its policies on financing the fossil fuel industry.

24 Jul 20 - Renewable sources have overtaken coal, oil and gas in EU electricity generation for the first time, new analysis shows.

22 Jul 20 - In recent years, far-right political parties in Europe have capitalised on crises to build their support bases.

20 Jul 20 - VULNERABLE COUNTRIES are urging the EU to link its coronavirus recovery funds and seven-year budget to a tougher 2030 climate target.
---
20 Jul 20 - Portugal is the third EU country this year to announce early closure of its last coal plants, as rising carbon costs and competition from gas and clean energy bite.
16 Jul 20 - France, Germany and Italy have collectively spent $44 billion on fossil fuels during the coronavirus crisis, compared to $29 billion for clean energy, according to fresh data released yesterday.
14 Jul 20 - COPIES of Indian newspapers onboard an Air India jet that crashed into Mont Blanc in the 1960s have been revealed by melting ice on the mountain's Bossons glacier.
8 Jul 20 - Marseille has become the latest French municipality to elect a green mayor in a wave that has swept the country since local elections at the end of last month.
1 Jul 20 - Spain is on track to become a coal-free country in record time. All of its remaining coal-fired thermal power plants started shutting down yesterday, a year-and-a-half after the closure of the coal...
30 Jun 20 - The European Union can reach climate neutrality as early as 2040, according to a group of environmental NGOs which have mapped out a scenario to move the bloc towards a 100 per cent renewable energy...
30 Jun 20 - Ireland's new coalition government has set itself a goal to deliver steep greenhouse gas emissions cuts every year to reach neutrality by 2050.
29 Jun 20 - The poster advertising an evening of debate and organic canapés looked familiar to environmentally conscious Germans - a rugged pair of hands, cupping fertile brown soil, underneath the slogan "Farms...
25 Jun 20 - Workers lay out huge geotextile sheets on the Presena glacier in northern Italy A vast tarpaulin unravels, gathering speed as it bounces down the glacier over glinting snow. Summer is here...
18 Jun 20 - A prolonged heatwave in Siberia is "undoubtedly alarming", climate scientists have said. The freak temperatures have been linked to wildfires, a huge oil spill and a plague of tree-eating moths.
17 Jun 20 - The coronavirus lockdown gave a glimpse of what cleaner cities can look like, but as people turn to private cars for safety from infection, pollution could soar.
16 Jun 20 - The French schooner De Gallant has docked in Falmouth harbour three months after leaving Santa Marta in Colombia laden with tonnes of sustainably sourced coffee beans.
---