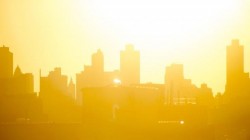 Monday - New Zealandís greenhouse gas emissions blow-out continues unabashed, with net emissions expected to more than double by 2030, despite international pledges to cut them.

Monday - New Zealandís one-for-two carbon subsidy is almost gone.

Monday - Government policies Ė including the Emissions Trading Scheme - are expected to start making a dent in New Zealandís agricultural emissions over the next 12 years.

Monday - The Government will review the way the Waste Management Act is being implemented as New Zealandís rubbish mountain climbs.

15 Dec 17 - Lack of government leadership means New Zealand business, society, infrastructure and the land itself are exposed to billions of dollars worth of potential damage from the impacts of climate change, the Government has been told.

15 Dec 17 - It has been a busy year Ė domestic carbon prices climbed nearly $3, New Zealand ratified the Paris Agreement and pledged to be carbon-neutral by 2050, and, for the first time, climate change was an election issue, of sorts.

14 Dec 17 - New Zealandís greenhouse gas emissions from farming could have fallen by 20 per cent on 1990 levels if the efficiency gains of the past 25 years hadnít been used to boost production.
---
13 Dec 17 - In late 2015, officials gave new climate minister Paula Bennett as list of five things they thought should be done over the next two years.
13 Dec 17 - The biggest New Zealand and Australia institutional investors are among more than 225 global investors with more than $37.5 trillion in assets under management promising to ďengageĒ the worldís...
12 Dec 17 - Climate minister James Shaw says the new climate commission will play a role in dealing with agricultural greenhouse gas emissions.
11 Dec 17 - New Zealand's approach to negotiating carbon-trading relationships with other countries is drawing fire.
11 Dec 17 - Neither Prime Minister Jacinda Ardern nor climate minister James Shaw will be at the One Planet Summit Day in Paris tomorrow.
8 Dec 17 - Officials are working on getting New Zealand access to international carbon markets when they develop Ė but they donít want their activities made public.
7 Dec 17 - Floods, fires, droughts, storms, slips, pests and diseases are Aucklandís future, threatening primary production and human health, warns a new report.
7 Dec 17 - New Zealand carbon is selling for more than $20 a tonne for the first time since March 2011 Ė and itís expected to go higher.
6 Dec 17 - Understanding why farmers are not taking advantage of ways to make more money while cutting greenhouse gas emissions is critical to getting New Zealandís emissions down, says a leading scientist.
6 Dec 17 - Global greenhouse gas emissions would fall if people in rich countries like New Zealand ate healthily, Dutch scientists say.
6 Dec 17 - This spring has set a mark as second-equal warmest on record.
5 Dec 17 - New Zealand needs to start planning now for the impacts climate change will have on its oceans and fisheries, scientists say.
---