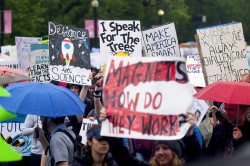 Today 10:00am - More than a dozen scientists are candidates for US House and Senate seats this year in a wave fueled by the Trump Administration's anti-science agenda.

Today 10:00am - Energy minister Angus Taylor has signalled the Australian government could indemnify new power generation projects against the future risk of a carbon price, and says it could also support the retrofitting of existing coal plants.

Today 10:00am - Drivers travelling between Australia's major cities could soon charge their electric vehicles in just 15 minutes with a super-fast network being rolled out across the country.

Today 10:00am - There's nothing novel about vehicles using alternatives to the internal combustion engine, but solar and battery-powered boats are rarely in the conversation.

Today 10:00am - Massive flooding of Pangea millions of years ago - caused by climate warming of 4deg-7deg - led to mass extinction and allowed for dinosaurs to rapidly diversify and spread around the world.

Tuesday - Tiny automated machines could soon take care of the entire growing process down on the farm. Fewer chemicals, more efficient – where's the downside?

Tuesday - Greenhouse gas emissions from the largest US industrial plants fell 2.7 per cent in 2017 as coal plants shut, according to the Trump administration.
---
Tuesday - President Trump's administration has for a second time asked the US Supreme Court to put the brakes on a lawsuit filed by young activists who have accused the government of ignoring the perils of...
Tuesday - Everyone on Nauru – indigenous Nauruans and refugees alike – is experiencing the impacts of one the greatest social, economic and political threats faced by the world today: global environmental...
Tuesday - Ninety per cent sea, rock and lake salt brands sold around the world contain microplastics, a new study shows.
Tuesday - A coastal town in the Russian Arctic has been besieged by hungry polar bears who are spending more time on land as sea ice melts due to climate change.
Friday - Global carbon emissions will rise to a new record level in 2018, making the chances of reaching a target to keep temperature increases to 1.5deg or 2deg "weaker and weaker every year, every month,"...
Friday - Future coal mining applications are set to be rejected as a matter of policy for the first time in Wales.
Friday - More powerful storms, flooding, desertification and the melting of permafrost are already destroying important heritage sites at an alarming rate.
Friday - Three protesters jailed for blocking access to a UK fracking site have walked free after the court of appeal quashed their sentences, calling them "manifestly excessive".
Friday - The world's largest collection of rice varieties has secured indefinite funding in what officials say will be crucial for the development of seeds resilient to the effects of climate change.
Friday - A series of floods that hit the ancient city of Angkor would have overwhelmed and destroyed its vast water network, according to a new study that provides an explanation for the downfall of the...
18 Oct 18 - Far more must be invested in adapting to warming, says a new global commission that aims to rebuild political will after the US withdrawal from the Paris Agreement.
18 Oct 18 - The Bank of England has told Britain's banks and insurers they must come up with credible plans for protecting themselves against risks from climate change and that they might need to hold more...
---