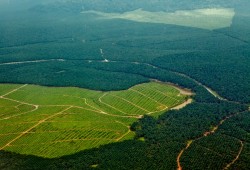 Monday - Tensions between farmers and foresters over land acquisitions are about to be played out on the streets of Wellington.

Monday - National Party MP Judith Collins says the risks of letting global heating go beyond 1.5deg above pre-Industrial levels are being overstated by an "increasingly fanatical" green lobby.

Monday - Ten years ago, the ability to sell New Zealand forestry units overseas was threatened by a possible linking of the Emissions Trading Scheme with one proposed for Australia.

Monday - The Environment Select Committee has just a week left to finalise its report to Parliament on the zero-carbon bill.
Friday - New Zealand risks a Brexit-style populist backlash if it mishandles decarbonisation of the economy, unions are warning.

Friday - Cutting carbon out of the economy should not cause the "collateral damage" seen in New Zealand's other economic transformations, says the first head of the Climate Change Commission.
Friday - Ten years ago, Australia's largest sharemarket, the ASX, was moving into carbon.
---
Thursday - The Government will not pay any price to get cross-party support on its climate legislation, the Prime Minister says.
Thursday - The price of spot carbon in New Zealand could double over the next five years.
Thursday - Yesterday, a 29-year-old Auckland music teacher who has been an activist for only a few short weeks, screwed up her courage and told some of the country's biggest businesses they're not doing enough...
Thursday - Ten years ago, officials were predicting the National Government's changes to the Emissions Trading Scheme could cost the country $500 million.
Wednesday - Rising carbon prices are critical to getting New Zealand's greenhouse gas emission down, business leaders have been told.
Wednesday - Local councils that fail to properly assess and prepare for climate change risk legal action from insurance companies, an industry executive says.
Wednesday - If the Government wants cross-party consensus on climate legislation it should put up legislation the Opposition can support, National's climate spokesperson says.
Wednesday - Student climate activist Florence van Dyke has taken the fight to a new arena – business. And it's working.
Wednesday - Ten years ago, the National Government said it had done a deal with the Maori Party for support on changes to the Emissions Trading Scheme without doing any costings.
8 Oct 19 - Former Reserve Bank chair Dr Rod Carr will head the Climate Change Commission.
8 Oct 19 - An announcement on how the agricultural sector will be charged for greenhouse gas emissions is imminent, the Government says.
8 Oct 19 - Ten years ago, State-owned forestry research institute Scion was excited about the potential for New Zealand's forests to give the country energy-independence and a bioplastics industry.
---