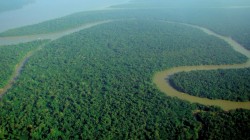 Monday - Large asset managers could play a pivotal role in safeguarding the Amazon forest, a new report shows, amid concerns Brazil's president-elect Jair Bolsonaro could strip the planet of its lungs.

Monday - China will be urged to crack down on illegal CFC-11 production under an international declaration set for adoption at a meeting in Ecuador this week.

Monday - Germany has earmarked one billion euros to support a consortium looking to produce electric car battery cells and plans to fund a research facility to develop next-generation solid-state batteries.

Monday - Scientists once again have confirmed that humankind's actions have triggered ever-greater extremes of rainfall – and an ever-greater rise in disastrous flash floods.

Monday - A writer at the top of his game considers climate change, what we can do and what keeps him from despair.

Friday - The Carbon Clock showing how much time the world has left before it exhausts its carbon budget has been set back a fraction.

Friday - John F. Kennedy was warned about "climate control" in February 1961, becoming perhaps the first American president to learn about people's impact on planetary temperatures.
---
Friday - The entire ozone layer — even the highly damaged parts over the North Pole and South Pole — could be completely healed by 2060.
Friday - Taxing red meat would save many lives and raise billions to pay for healthcare, according to new research.
Friday - Single-use, a term referring to products – often made of plastic – that are made to be used once and thrown away, has been named Collins Dictionary's word of the year for 2018.
Thursday - With their win of control of the US House of Representatives, Democrats will now have the numbers to put climate change issues back on the Congressional agenda.
Thursday - BY GEORGE MONBIOT | By downplaying our environmental crisis, Sir David Attenborough's BBC films have generated complacency, confusion and ignorance.
Thursday - Large-scale hydropower dams are unsustainable in the developing world, according toi new research.
Thursday - Hundreds of students around Australia are preparing to strike from school because of what they say is a failure by politicians to recognise climate change as an emergency.
Thursday - Palau is set to become the first country to ban reef-toxic sunscreen.
Wednesday - The amount of energy required to mine one dollar's worth of bitcoin is more than twice that required to mine the same value of copper, gold or platinum.
Wednesday - EU economy and finance ministers have stressed the need to scale up public and private money for climate change.
Wednesday - Demand for electric vehicles is fuelling a rise in child labour in cobalt mines in the Democratic Republic of Congo, experts said this week, urging companies to take action as the industry expands.
Wednesday - The record hot weather being experienced across prts of Australia is now the new normal as the effects of climate change become baked-in.
---