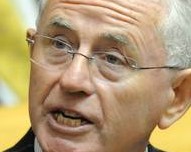 Thursday - Greater environmental taxes and strengthening of the Emissions Trading Scheme are on the way if the Government adopts recommendations from its Tax Working Group.

Thursday - Twenty-three local body leaders haven't signed the Local Government Leaders' Declaration on Climate Change.

Tuesday - Treasury expects most emitters to pay the Government a carbon fee this year instead of surrendering carbon credits – and that will cost the country money.

18 Feb 19 - Two large New Zealand companies making commitments to cut greenhouse gas emissions are still talking about keeping global heating below 2deg, not the 1.5deg scientists now say is the maximum the world can safely reach.

14 Feb 19 - The Emissions Trading Scheme alone will not drive the level of land-use change New Zealand will need to cut its greenhouse gas emissions, a new report says.

13 Feb 19 - New Zealanders are capable of making the society-wide changes needed to tackle climate change – but at the moment they're more focused on getting rid of plastic waste.

12 Feb 19 - PLANS TO TURN farms on steep country into forests could see the Government run foul of Mâori economic development plans.
---
11 Feb 19 - The Government's top climate research organisation says New Zealand's methane emissions from agriculture should be carbon-neutral.
8 Feb 19 - New Zealand has fallen down the international rankings for action on climate change.
8 Feb 19 - Transitioning to a low-carbon economy is at the top of the Government's budget priorities this year.
7 Feb 19 - A Labour-New Zealand First coalition agreement clause that guarantees farmers they will not pay as much as other sectors for their greenhouse gas emissions – if anything at all - is being challenged...
5 Feb 19 - Linkages between emissions trading scheme in Europe and New Zealand are on the agenda – but it's China that Europe is really interested in.
4 Feb 19 - Carbon prices of $300 to $400 a tonne could make hydrogen viable in New Zealand for electricity generation, a new report says.
31 Jan 19 - Billions of dollars worth of council-owned infrastructure is at risk from rising seas, says a new Local Government New Zealand report.
30 Jan 19 - The head of the Planning Institute says the Government needs to step up and show the way for communities to plan for the impacts of climate change.
30 Jan 19 - Contact Energy is one of the companies which opposed the Government lifting the $25 carbon price cap this year.
29 Jan 19 - Iwi involved in the Treelords settlement are backing calls for extra carbon stored in old and indigenous forests be recognised.
25 Jan 19 - The Emissions Trading Scheme should be used to encourage more carbon storage in old forests, the forestry industry is telling the Government.
24 Jan 19 - Proposed changes to the Emissions Trading Scheme alone will not trigger the forestry planting levels New Zealand needs to cut emissions – agriculture must be brought into the scheme, says one of the...
---