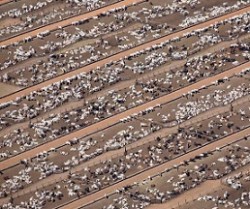 Wednesday - Humankind is revealed as simultaneously insignificant and utterly dominant by a groundbreaking new assessment of all life on the planet.

Wednesday - Researchers found a way to turn carbon pollution into graphite, a component widely used in batteries.

7 May 18 - Microsoft founder Bill Gates' company TerraPower aims to build a safe, nearly waste-free nuclear reactor that won't contribute to weapons proliferation or climate change.

3 May 18 - Nitrogen from rock could fuel plant growth around the world – but not enough to prevent climate change.
26 Apr 18 - The novel "supermaterial" graphene could hold the key to making concrete greener, new scientific research suggests.

24 Apr 18 - Five Victoria University academics will be lead authors on the next IPCC assessment report.

24 Apr 18 - The world's permafrost holds vast stores of carbon. What happens when it thaws?
---
17 Apr 18 - It is possible to limit warming to 1.5deg above pre-industrial temperatures without using negative emissions from bioenergy with carbon capture and storage (BECCS), new research says.
20 Mar 18 - Scientists have sequenced the genomes of the micro-organisms that make sheep and cattle emit methane.
14 Mar 18 - Earth has gone through five mass extinction events – scientists are worried we're on course to trigger a sixth – and the deadliest one happened 252 million years ago.
13 Mar 18 - Microplastics are contaminating rivers as well as the ocean, say scientists.
2 Mar 18 - Ecosystems almost never recover completely from large-scale destruction — even when they're actively restored, says a team of international researchers.
26 Feb 18 - Scientists fear secret excavation of ancient kauri logs from swamps is hampering their ability to predict future climate change.
23 Feb 18 - This summer is about to become New Zealand's hottest in history - despite a sub-tropical storm and two ex-tropical cyclones.
16 Feb 18 - Three new studies of how the world works show that seabird excrement plays an unexpected role, as do polar algae and rotting trees.
14 Feb 18 - The New Zealand Climate Change Research Institute has been named one of the best environmental policy think-tanks in the world.
14 Feb 18 - A type of super-strong wood, which could replace the use of steel in manufacturing, has been developed by US researchers.
12 Feb 18 - Climate change might cause birds' eggs to hatch early, a new study shows.
8 Feb 18 - The ozone layer that protects people from the sun's ultraviolet radiation is not recovering over most highly populated regions, warn scientists.
---