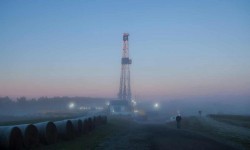 Friday - The Trump administration is revoking rules that require oil and gas drillers to detect and fix leaks of methane, a greenhouse gas that heats the planet far faster than carbon dioxide.

Thursday - Joe Biden's pick of Senator Kamala Harris as his running mate for the United States presidency could reinvigorate stalled world action on climate change in a "night and day" switch if the Democrats defeat Donald Trump, climate policy experts say.

Thursday - Coal is on it's way out when it comes to electricity generation, but at least one Trump administration official has some creative ideas for how to keep it in our lives.
Wednesday - For years, the idea of putting a price on carbon emissions seemed like a no-brainer — economists claimed that it would cut fossil fuel pollution quickly and efficiently, and at the same time, could even give money back to the American public. Over the past few months, as Democrats have rolled out multiple comprehensive plans to slow down climate change and turbocharge renewable energy, the idea of a "carbon tax" has been notably absent.

4 Aug 20 - With Virginia and Pennsylvania clamoring to join, the Regional Greenhouse Gas Initiative, affectionately known as RGGI (pronounced "Reggie"), is becoming the coolest climate club on the United States East Coast.

29 Jul 20 - Big corporations accused of driving environmental and health inequalities in black and brown communities through toxic and climate-changing pollution are also funding powerful police groups in major US cities, according to a new investigation.

28 Jul 20 - By BAN KI-MOON | The Paris agreement to tackle climate change is an extraordinary opportunity. In a remarkable display of unity, almost every nation on Earth has agreed to make critical changes that will help humanity avoid disaster. But Donald Trump is walking away.
---
28 Jul 20 - When Sam Kern started working at Google four years ago, she believed she could drive change as an insider. If she could just get the ear of the right executives, Kern thought, she could convince them...
27 Jul 20 - Back in 2018 – in the pre-pandemic world – about 5 per cent of the US workforce teleworked from home. That changed dramatically with the onset of the covid-19 pandemic; by May 2020 that number had...
21 Jul 20 - Morgan Stanley will become the first major United States bank to publicly disclose how much its loans and investments contribute to climate change.
21 Jul 20 - After the fossil fuel industry spent hundreds of millions of dollars undermining climate science, it's easy to see how epidemiology came next.
17 Jul 20 - The world's food supply is imperiled by a climate crisis already upon us, and Joe Biden this week put forward an agenda to address it that's as bold as you could hope from a man who actually intends...
17 Jul 20 - PacifiCorp, a subsidiary of Warren Buffett's Berkshire Hathaway Energy, is a company aiming to ramp up its use of renewable energy at the same time as it navigates some extreme differences of opinion...
13 Jul 20 - Once upon a time, many moons ago — ie back in April — Democratic presidential primary candidate Bernie Sanders agreed to exit the race and join forces with his mortal frenemy Joe Biden to help the...
9 Jul 20 - Climate activists sense a turning point in their war against the Trump administration's effort to cement a fossil-fueled future for the United States, with three major defeats for high-profile oil...
6 Jul 20 - Californian dairyman Scott Magneson just keeps on farming, despite the economic fallout from a pandemic and the extreme weather — floods, drought, wildfires — linked to climate change.
25 Jun 20 - When the Obama administration entered the White House in January 2009, the first hope was to put people back to work and also accelerate transition to a clean-energy economy.
25 Jun 20 - Millions of ordinary Americans are facing rising and unaffordable bills for running water, and risk being disconnected or losing their homes if they cannot pay, a landmark Guardian investigation has...
24 Jun 20 - From New York to Los Angeles, Minneapolis to the Gulf Coast, people of colour suffer disproportionately from climate change, pollution and callous government.
---