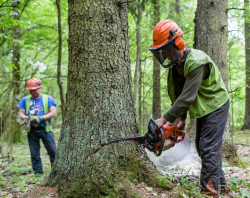 Thursday - The Polish government has been accused of pushing a primeval forest system to the point of no return with state-sanctioned logging in a Unesco world heritage site.

24 May 17 - Swiss voters have said yes to the government's plan to provide billions of dollars in subsidies for renewables, in addition to banning nuclear power.

23 May 17 - An international carbon trading organisation says British companies should stay in the European Emissions Trading Scheme until at least 2020, despite Brexit.

23 May 17 - Shell shareholders including the Church of England, European pension funds and Dutch activists will send a signal to the board of the Anglo-Dutch company this week by voting for it to set new climate-change goals.

19 May 17 - Former climate heroes France, Finland, Sweden and Austria are fighting tooth and nail to weaken EU land accounting rules, also known as the LULUCF Regulation.

18 May 17 - Funding from Shell and other oil majors has turned a prestigious Dutch University into a conduit for fossil fuel policy gambits, according to an explosive new report.

11 May 17 - EU countries are using the low carbon transition to justify new subsidies to the coal industry, instead of investing in clean alternatives.
---