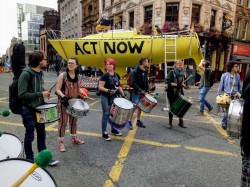 Friday - The voting age should be lowered to 16 because today's young people are the ones that face a "toxic inheritance" of environmental crises, a leading think tank has said.

13 Sep 19 - Farming can become climate neutral by 2040 without cutting beef production or converting substantial areas of farmland into forest, according to UK farmers.

28 Aug 19 - A coalition of climate campaigners and business groups have called for a ban on all petrol and diesel vehicles in Scottish cities as part of a multibillion-pound strategy to cut carbon emissions.

19 Aug 19 - Boris Johnson's partner Carrie Symonds said politicians had a "gigantic responsibility to make the right decisions" over the climate crisis, in her first solo public appearance since moving into Downing Street.

14 Aug 19 - A university has banned the sale of beef in campus food outlets in order to help to tackle the climate emergency.

31 Jul 19 - All electricity consumers in Britain will pay a new UK nuclear tax, a levy on their bills to finance the construction of nuclear power plants under a scheme announced by the government.

25 Jul 19 - Here's what new British Prime Minister Boris Johnson has said and done about climate change.
---
19 Jul 19 - The Queen stands to make hundreds of millions of dollars from the world's biggest offshore windpower auction in a decade.
15 Jul 19 - The UK government says all new ships ordered from 2025 and aimed for its waters must be equipped with zero emission technology as part of a plan to cut maritime pollution.
12 Jul 19 - The UK government's own advisers have declared themselves shocked that the Britain has no proper plans for protecting people from heatwaves, flash flooding and other impacts of the climate crisis.
10 Jul 19 - Two of the UK's biggest energy suppliers have pledged to replace thousands of their existing fleet of vans with all-electric models by 2030.
8 Jul 19 - Britain's largest supermarket chain is launching a drive to reduce food waste from bread by turning unsold bread into new products.
25 Jun 19 - UK Labour plans to give the Bank of England powers to help to check the readiness of City firms to cut carbon emissions and invest responsibly to tackle the climate emergency.
13 Jun 19 - Greenhouse gas emissions in the UK will be cut to almost zero by 2050, under the terms of a new government plan to tackle climate change.
6 Jun 19 - Britain has not used coal to generate electricity for two weeks - the longest period since the 1880s.
24 May 19 - More than 70 Church of Scotland delegates have formally lodged their frustration at the decision of its general assembly not to divest from fossil fuels.
21 May 19 - Glasgow has committed to being the UK's first net-zero city.
16 May 19 - Wales' farming emissions have been put in the too-hard basket by the UK Committee on Climate Change.
16 May 19 - New orchards are appearing across the UK to stop the widespread decline of rare insects and birds, and to slow down climate change.
---