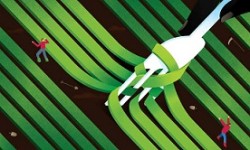 Thursday - The Earth cannot accommodate our need and greed for food. We must change our diet before it's too late, says George Monbiot.

Thursday - One of the world's biggest financial services companies is both dumping investments and ending insurance for controversial US oil pipelines.

Thursday - Germany is the leading nation for recycling, followed closely by Wales and Singapore, according to new research.

Thursday - A war on waste food in France has helped it secure the top spot in a ranking of countries by their food sustainability.

Thursday - China is seeking to clean up its overseas investments and is calling for international support.

Thursday - More than 3500 European utility companies have vowed to lead the low-carbon energy transition, calling on policymakers to accelerate electrification.

Thursday - When a river flows into the ocean, so does plastic. Lots of it. Globally, rivers transport as much as four million tonnes of plastic out to sea every year.
---
Wednesday - Eighteen climate scientists from the US and elsewhere have hit the jackpot as France's president, Emmanuel Macron, awarded them millions of euros in grants to relocate to France.
Wednesday - The oil industry has stalled action on climate change from the inside and sold America on fossil fuels – and its influence goes back further than people realise.
Wednesday - After spending years building up its gas-power business, General Electric is trying to figure out how to keep pace in a world that's no longer all that interested in fossil fuels.
Wednesday - Billions of internet-connected devices could produce 3.5 per cent of global emissions within 10 years and 14 per cent by 2040.
Wednesday - A $3 billion project that will introduce high-speed deisel trains to the US could take up to three million cars off the roads.
Tuesday - Australia's emissions over the past year were the highest on record, when relatively unreliable emissions from land use are excluded, according to new estimates.
Tuesday - The shipping industry will be urged to align with international climate goals under a declaration to be launched at a climate summit in Paris today.
Tuesday - Seventy-six per cent of global consumers say sustainability is important – but only 42 per cent say they always attempt to minimise household food waste, a new survey shows.
Tuesday - A few countries are set to join the coal phase-out club at the One Planet Summit in Paris today, but more levers will be needed to bring major coal users in line.
Tuesday - "Sin taxes" on meat to reduce its huge impact on climate change and human health look inevitable, according to analysts.
Tuesday - A wave of social enterprises are trying to get people to eat insects instead of meat.
Tuesday - The UK's National Forest has not only transformed an industrial landscape, it has given people a new sense of belonging and wellbeing, created jobs and boosted wildlife.
---