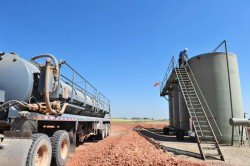 Monday - Higher than expected levels of the potent short-lived climate pollutant raise questions about whether natural gas can be an effective bridge to lower emissions.

Monday - Striking sea-level rise images have sent shockwaves through the Marshallese community and brought some EU ministers to tears.
Monday - Scientists hope they might have discovered a mitigating factor that could slow or even prevent the West Antarctic ice sheet' collapsing into the ocean.

Monday - Australia's National Farmers' Federation has added its voice to a chorus of Liberals and some Nationals warning Tony Abbott and other conservatives not to scuttle the government's national energy guarantee.

Monday - Throwaway "fast fashion" in the UK will be investigated amid growing concerns that the multi-billion pound industry is wasting valuable resources and contributing to climate change.

Monday - Some climate change research is enlightening, some alarming, some baffling – and some, on soccer and sausages, might seem a little bizarre.

Friday - New Zealand's greenhouse gas emissions from energy were up in the first three months of this year compared to the same time last year – with record temperatures meaning less water was available for hydro-electric generation.
---
Friday - The loss of sea ice from the Arctic Ocean will alter wind patterns and ocean currents, causing changes across the planet.
Friday - Bolivian farmers are going underground in order to protect their crops from drought, flash floods and increasing temperatures.
Friday - The Asian Infrastructure Investment Bank is backing a coal-fired cement works in Myanmar through an intermediary, in a worrying sign for its climate credentials.
Friday - The latest eco-drive has taken hold in middle-class heartlands in a way that this time it might just mean widespread, permanent changes to the ways we live and consume.
Thursday - Climate campaigner James Hansen, who gave a climate warning in 1988 US Senate testimony, says the world is failing and the real hoax is by leaders claiming to take action.
Thursday - An extra $460 billion a year needs to be invested in the low-carbon economy globally over the next 12 years to limit climate warming to 1.5deg, a new paper says.
Thursday - London-based Legal & General, which has close to £1 trillion worth of assets under management, has released its latest assessment of how 84 global corporations are responding to the risks posed by...
Thursday - Australian investment group Macquarie has offered £500 million to finance green projects.
Thursday - Norway has tested a two-seater electric plane and predicted a start to passenger flights by 2025 if new aviation technologies match a green shift that has made Norwegians the world's top buyers of...
Thursday - A group of 37 major European banks are joining forces to launch a new energy efficiency scheme.
Wednesday - China will take action to curb the "blind" development of its rapidly growing electric vehicle sector, says a state planning spokeswoman.
Wednesday - Managers of the £1.5tn invested in Britain'sworkplace pension schemes are to be given new powers to dump shares in oil, gas and coal companies in favour of long-term investment in green and "social...
---