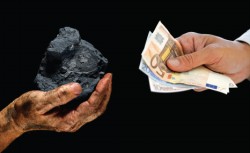 Friday - Global carbon markets have been brought back from the brink of collapse by recent developments providing a much-needed boost, according to the World Bank.

Friday - Oil demand is set to face an even bigger threat from fuel-efficient engines than from electric vehicles over the next two decades, according to Bloomberg New Energy Finance.

Friday - The EPA this month could finalise a controversial rule to limit what scientific research the agency can use in writing US environmental regulations.

Friday - Royal Dutch Shell has seen off the two most debated issues at its shareholder meeting this week - the boss's pay and responsibility in tackling climate change.

Friday - The changing climate means Australia is facing a range of important domestic and international security implications, a Senate report has found.

Friday - At least 11 people were killed and 80 wounded when police fired at protesters calling for the closure of a copper smelter in southern India.

Thursday - Few ideas in climate science have gained greater public attention in the last decade than the concept of the "carbon budget".
---
Thursday - Sales of new electric vehicles will reach 11 million within the next eight years, according to new analysis.
Thursday - Roughly one-third of the global protected area estate - a staggering six million square kilometres - is under intense human pressure, a new study reveals.
Thursday - Dry rivers can emit significant amounts of carbon dioxide when water starts to flow, new research shows.
Wednesday - An increasing number of reports are identifying limiting global warming to 1.5deg as critical for the future of humans and nature.
Wednesday - US Navy town Norfolk sees itself as a living lab for coastal resilience, one in desperate need of solutions as flooding worsens. Not every neighborhood will be saved.
Wednesday - Humankind is revealed as simultaneously insignificant and utterly dominant by a groundbreaking new assessment of all life on the planet.
Wednesday - A former coal plant in the north of England will become the test site for a new way to remove carbon dioxide from electricity generation.
Wednesday - New York State has proposed telling coal plants to change the way they operate, or close down.
Wednesday - Researchers found a way to turn carbon pollution into graphite, a component widely used in batteries.
22 May 18 - Royal Dutch Shell faces a shareholder challenge over climate change this week, as investors insist oil and gas firms should offer more transparency and action on carbon emissions.
22 May 18 - Concerns over urban air quality and the rise in global temperatures have spurred technological innovation by car makers, meaning that the era of dirty diesel is now over.
22 May 18 - The United Nations has warned the UK government that the country's reputation is at risk over plans that would significantly weaken protections for the environment after Brexit.
---