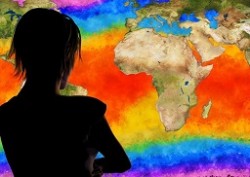 11 Dec 19 - Global temperatures are on course to rise by 3deg to 5deg by the end of the century and global emissions continue to increase. But there are genuine reasons for hope.

11 Dec 19 - There's more than one way to plant a tree – and some of the most widely used techniques aren't up to scratch.

11 Dec 19 - The BBC's new wildlife television series featuring David Attenborough, Seven Worlds, One Planet, marks a drastic departure from previous programmes.

6 Dec 19 - Scientists and conservation professionals predict mosquito-killing fungi and a kelp crisis could be among the trends affecting living things next year.

6 Dec 19 - In many countries men are often migrating further to find work, leaving the entire burden of maintaining the family on women.

5 Dec 19 - Climate models have accurately predicted global heating for the past 50 years, a study has found.

4 Dec 19 - The past decade is almost certain to be the hottest on record, weather experts have warned, painting a bleak picture of vanishing sea ice, devastating heatwaves and encroaching seas.
---
4 Dec 19 - Seeds from 400 wild relatives of food crops such as bananas, rice and aubergines have been collected to save their valuable genetic diversity before it is lost.
4 Dec 19 - It's no secret that scientists often struggle to explain their research in the most approachable way.
3 Dec 19 - In the near future, global warming is expected to create millions of climate refugees, and individuals and organisations are already searching for ways to help them.
3 Dec 19 - Babies could be born up to two weeks' earlier as the climate warms.
29 Nov 19 - Insurer Axa has promised to sever ties with the coal industry as part of a climate strategy to phase out the group's multibillion pound investments and insurance underwriting of companies that back...
27 Nov 19 - Divestment doesn't affect global demand for oil, it just transfers power to state-run oil companies – which have higher carbon footprints. But there are other things we can do.
27 Nov 19 - It took only a 60-year drought to lay low one of the first superpowers. It crumbled when harvests withered over two millennia ago.
26 Nov 19 - The concentration of climate-heating greenhouse gases has hit a record high, according to a report from the UN's World Meteorological Organisation.
25 Nov 19 - Production of oil, gas and coal to 2030 is on track for warming way beyond 1.5deg goal, a UN Environment report warns.
22 Nov 19 - Oxford Dictionaries has declared "climate emergency" the word of the year for 2019, following a hundred-fold increase in usage that it says demonstrated a "greater immediacy" in the way we talk about...
22 Nov 19 - Increasing the use of bamboo in the building sector could play a big role in fighting climate change, researchers believe.
18 Nov 19 - Methane emissions leaking from the world's coalmines could be stoking the global climate crisis at the same rate as the shipping and aviation industries combined.
---