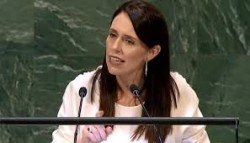 Today 10:00am - Prime Minister Jacinda Ardern has told the world New Zealand wants climate change included in trade deals and global co-operation on carbon pricing.

Monday - Deeper pools of capital, a smart, skilled and motivated workforce and plentiful clean energy are behind the Government's plans for the future of the economy.
Friday - New rules to improve water quality will also drive down New Zealand's greenhouse gas emissions – but the Government doesn't know by how much.

Thursday - Progress is being made at last on assessing the risk climate change poses to New Zealand.

Thursday - The Government has released new advice for local businesses wanting to voluntarily offset their emissions.

18 Sep 19 - Prime Minister Jacinda Ardern agrees with farmers that greenhouse gas emissions from agriculture should be managed at a farm level.

16 Sep 19 - New Zealand had the opportunity a decade ago to adopt the type of agricultural emissions pricing regime for which farmers are now fighting.
---
16 Sep 19 - The farming industry is upping pressure on the Government for its own emissions-pricing regime.
10 Sep 19 - Because of climate change, the country's six largest hydro power schemes should be exempt from rules requiring minimum water levels in rivers, the Government says.
9 Sep 19 - The Government is refusing to release six documents relating to farming and the Emissions Trading Scheme.
9 Sep 19 - Environmental taxes such as carbon pricing don't necessarily slow economic development, researchers say.
6 Sep 19 - Barbados has joined a New Zealand-led group taking action to limit the impacts of ocean acidification caused by rising levels of carbon dioxide in the air.
3 Sep 19 - New Zealand is "dumb" if it thinks hydrogen is the energy solution for the future, says one of the country's leading experts on transition engineering.
30 Aug 19 - The Government's decision to make mining on conservation land a non-starter in a new minerals strategy is being criticised.
29 Aug 19 - A trio of top international climate scientists wants the New Zealand Government to be tougher on methane than it plans to be.
28 Aug 19 - The Government is gearing up to go looking for the minerals that will drive the low-carbon economy – lithium and cobalt.
27 Aug 19 - Government decisions that don't take climate change into account should be voided, says an economist who has spent 30 years trying to get governments in New Zealand and Australia to take the issue...
26 Aug 19 - Parliament is under increasing pressure to let farmers claim credit for carbon stored in trees and soils on their land.
23 Aug 19 - Implementing the zero-carbon bill could see about 10 per cent of current farmland converted to forests, the Ministry for the Environment says.
---