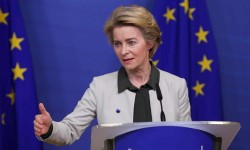 12 Dec 19 - Nearly every major aspect of the European economy is to be re-evaluated in light of the imperatives of the climate and ecological emergency, according to sweeping new plans set out by the European Commission.

11 Dec 19 - The case for ambitious and transformative environmental policy is being made with increasing fervour and a series of "Green New Deals" have been proposed.
10 Dec 19 - Denmark's parliament has adopted a new climate law, committing to reach 70 per cent below its 1990 emissions in the next 11 years.

6 Dec 19 - Iceland Prime Minister Katrin Jakobsdottir has urged governments to adopt green and family-friendly priorities, instead of just focusing on economic growth figures.

29 Nov 19 - The European parliament has declared a global "climate and environmental emergency" as it urged all EU countries to commit to net zero greenhouse gas emissions by 2050.

28 Nov 19 - European Commission Presiden Ursula von der Leyen has cited climate policy as the most pressing issue facing her new executive team.

27 Nov 19 - The European parliament is split over whether to declare a global climate emergency before next week's crucial UN summit.
---
22 Nov 19 - The European Union last year embarked on a mission to decarbonise the building sector, currently responsible for 40% of the bloc's energy use.
19 Nov 19 - The German lower house has approved a major climate protection package which aims to ensure the country will meet its 2030 target for reducing greenhouse gas emissions.
18 Nov 19 - The European Investment Bank will stop funding fossil-fuel projects at the end of 2021, a landmark decision that potentially deals a blow to billions of dollars of gas projects in the pipeline.
14 Nov 19 - Never mind how many electric cars are sold there, Norway has to change tack and end prospecting for new oil reserves.
30 Oct 19 - The Russian government has gutted its proposed law to regulate emissions, apparently caving in to the country's powerful fossil fuel industry.
29 Oct 19 - Scientists say the annual Munich Oktoberfest celebration of beer, bands and bratwurst produces methane emissions as high as some major cities.
25 Oct 19 - Why are climate protesters being tear-gassed under the watch of France's president, a self-defined climate champion?
21 Oct 19 - The Rhône valley in southern France is best known for its wines and food. Now, it can also add solar power to its list of attractions.
18 Oct 19 - The European Investment Bank has decided to delay until next month a decision on updating its energy lending policy.
18 Oct 19 - Italian shoppers could soon enjoy a discount on products sold loose as part of a range of measures expected to be approved by the government.
16 Oct 19 - Green growth and 'hedonistic sustainability' have helped to keep the public on board as Copenhagen seeks to be the first carbon-neutral city by 2025.
1 Oct 19 - Villagers living on the edge of one of Germany's biggest surface coalmines have vowed not sell their properties to the energy company RWE, and to fight any attempt to oust them from their homes.
---