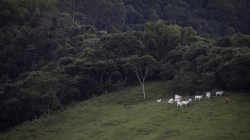 17 Mar 20 - Five large financial firms from the US and UK are bankrolling an oil boom in the western Amazon, says a new report.

3 Feb 20 - President Jair Bolsonaro has caused widespread dismay by appointing an ex-military colleague to oversee protection of the Amazon.

2 Dec 19 - Black carbon from Amazon rainforest fires is settling on Andes glaciers and making them melt faster, according to new research.

2 Dec 19 - Brazil president Jair Bolsonaro has accused actor Leonardo DiCaprio of bankrolling the deliberate incineration of the Amazon rainforest.

20 Nov 19 - Deforestation in Brazilís Amazon rainforest this year rose to its highest in over a decade.

20 Nov 19 - The overthrow of Bolivian president Evo Morales shows how the politics of environmentalism and social justice intersect in a silvery-white metal.

4 Nov 19 - Argentina has changed its definition of waste in a move that could allow it to import millions of tonnes of plastic waste discarded in the US.
---
1 Nov 19 - The Catholic church in the Amazon has denounced attacks on the environment and the life of indigenous people ó setting out on a collision course with Brazilís president Jair Bolsonaro.
25 Oct 19 - The destructive policies of Brazil president Jair Bolsonaro could push the Amazon rainforest to an irreversible tipping point within two years.
18 Oct 19 - Calm has returned to the streets of Quito after Ecuadorís government agreed to reinstate fuel subsidies following 11 days of nationwide, violent protests.
8 Oct 19 - Two of the most powerful forces in Brazil, the president and the pope, are pulling in opposite directions on an issue critical to climate change.
11 Sep 19 - From afar, it resembles a tornado: an immense grey column shooting thousands of feet upwards from the forest canopy into the Amazonian skies.
10 Sep 19 - Droughts and damaging storms are impacting smallholder farmers in Central America and driving higher levels of migration from the region.
29 Aug 19 - While the world watches the Brazilian Amazon burn, across the border in Bolivia itís also ablaze.
26 Aug 19 - Fuel is everywhere in rainforests, but it seems unimaginable that such humid ecosystems could ever catch fire. And without human intervention, they donít.
23 Aug 19 - The environment minister of Brazil, where wildfires have been sweeping the Amazon rainforest, was booed at a climate event yesterday as celebrities including Leonardo DiCaprio and Ariana Grande...
13 Aug 19 - Germany will suspend $39 million in funds sent to Brazil to finance projects aimed at preserving the Amazon forest.
7 Aug 19 - The Amazon might not be sequestering as much carbon dioxide as we think, scientists say.
5 Jul 19 - Brazilís huge beef sector continues to threaten health of worldís largest rainforest.
---