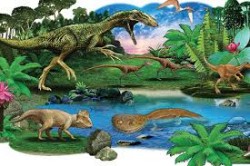 Today 10:00am - Massive flooding of Pangea millions of years ago - caused by climate warming of 4deg-7deg - led to mass extinction and allowed for dinosaurs to rapidly diversify and spread around the world.

Tuesday - Ninety per cent sea, rock and lake salt brands sold around the world contain microplastics, a new study shows.

Friday - Global carbon emissions will rise to a new record level in 2018, making the chances of reaching a target to keep temperature increases to 1.5deg or 2deg "weaker and weaker every year, every month," says the International Energy Agency.

Friday - More powerful storms, flooding, desertification and the melting of permafrost are already destroying important heritage sites at an alarming rate.

Friday - The world's largest collection of rice varieties has secured indefinite funding in what officials say will be crucial for the development of seeds resilient to the effects of climate change.

18 Oct 18 - Far more must be invested in adapting to warming, says a new global commission that aims to rebuild political will after the US withdrawal from the Paris Agreement.

18 Oct 18 - Climate researchers must understand the past before they can understand the future. But across huge swaths of the world, scientists simply don't have the data they need.
---
17 Oct 18 - More than 300 mammal species have been eradicated by human activities, say researchers.
17 Oct 18 - Trouble is brewing for the world's beer drinkers, with climate change set to cause dramatic price spikes and supply shortages, according to new research.
16 Oct 18 - The lush green lawns surrounding many homes, businesses, parks and other outdoor spaces might not be the greatest idea, according to scientists.
12 Oct 18 - Sugary drinks giant Coca-Cola, a company valued at $US56.4 billion, has emerged as by far the most common brand in audits of plastic debris found on beaches and in waterways, parks and streets.
12 Oct 18 - A major study finds huge changes to farming are needed to avoid destroying Earth's ability to feed its population.
11 Oct 18 - Sometime in the next few weeks, global oil consumption will reach 100 million barrels per day - more than twice what it was 50 years ago - and it shows no immediate sign of falling.
11 Oct 18 - Dutch scientists say they can create swarms of bee-like drones to take over if the insects die out.
10 Oct 18 - Carbon emissions from the energy sector are on track to grow for the second year running, in a major blow to hopes the world might have turned the corner on tackling climate change.
10 Oct 18 - A Nobel Prize has been awarded to American academic William Nordhaus who originated the idea of a 2deg global warming limit but last year cast doubt on our ability to reach it.
9 Oct 18 - From the beginning of next year, a global pact will take effect that could have a profound impact on climate change, cutting harmful greenhouse gas emissions by amounts that could help stave off some...
4 Oct 18 - Confidential US comments on a landmark global warming report raise doubts about the science behind it, warn that it risks crimping economic development and advocate for carbon-catching technologies.
3 Oct 18 - Leading scientists are meeting in South Korea this week to see if global temperatures can be kept from rising by more than 1.5deg this century.
---