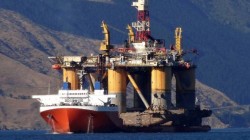 Wednesday - New Zealand's largest oil and gas exploration company wants carbon credits for capturing and storing emissions from fossil fuel production – and says it's viable at a carbon price of just $18 a tonne.
Tuesday - National Party climate spokesman Nick Smith was talking about an integrated carbon market with Australia, while his boss, then-Opposition leader John Key, was backing the Emissions Trading Scheme.

19 Mar 18 - The Government is looking at ending oil and gas exploration.

19 Mar 18 - … the Government was getting ready to plead New Zealand's case to allow the owners of pre-1990 forests to clear them without facing a carbon penalty, BP was warning against introducing a compulsory biofuels component into the nation's petrol and diesel supplies, Trustpower was finding a ready market for credits from its Tararua windfarm, Orcon founder Seeby Woodhouse was moving into carbon, and businesses wanted to be allowed to use credits from nuclear power plants.

16 Mar 18 - Climate minister James Shaw appears to be convincing business he knows what he's doing.

15 Mar 18 - Meeting New Zealand's Paris Agreement pledge from domestic emissions cuts alone would put the country on a straight line to carbon-neutrality by 2050, officials have told the Government.

14 Mar 18 - Climate minister James Shaw has just given the strongest hint yet that the Government might end oil and gas exploration.
---
13 Mar 18 - The Government is looking to fund projects that boost the circular economy.
12 Mar 18 - Climate change and the environment have failed to make new Opposition leader Simon Bridges' front bench.
12 Mar 18 - New Zealand's top science body is joining 21 others calling on Commonwealth countries to show "bold leadership" on climate change.
9 Mar 18 - The just-signed Trans Pacific Partnership trade deal ignores the threat climate change poses to human health and should be urgently reviewed before New Zealand ratifies it, warns the New Zealand...
7 Mar 18 - The climate commission should make recommendations on the Emissions Trading Scheme and the number of international credits used to meet New Zealand's targets, but control should stay firmly in the...
6 Mar 18 - The Government knows delaying lifting the carbon price cap could cost taxpayers money, but says it is unlikely to move until next year.
5 Mar 18 - The Ministry for the Environment is looking to form direct partnerships with businesses to cut emissions out of the New Zealand economy.
27 Feb 18 - Primary industries contribute nearly two-thirds of the country's greenhouse gases but account for less than 8 per cent of economic production, new figures show.
26 Feb 18 - Energy minister Megan Woods today will be told how the country can use biofuels to cut its burgeoning transport emissions.
22 Feb 18 - New Zealand's environment is about to have a monetary value put on it, in a new report examining the trade-offs between the environment and the economy.
19 Feb 18 - Officials are working on linking the Emissions Trading Scheme to schemes in other countries, saying it's the best way to secure the international carbon units New Zealand will need to meet its 2030...
16 Feb 18 - The Government says it is close to securing 50,000 hectares of land for new forests under its Billion Trees programme.
---