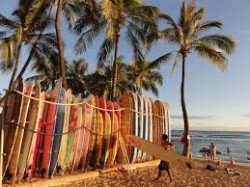 16 Aug 19 - Climate change is taking the fun out of surfing, swimming, and snorkeling in Hawaii.

14 Aug 19 - Australia is trying to water down a declaration on the urgent need for climate action at the South Pacific Forum meeting about to get under way in Tuvalu.

13 Aug 19 - Australian Prime Minister Scott Morrison will unveil a $500m climate change and oceans funding package for the Pacific region when he attends the Pacific Islands Forum in Tuvalu this week.

8 Aug 19 - Fiji will introduce one of the world's most ambitious legislative programmes to tackle the climate crisis, and has labelled the global community grossly irresponsible and selfish.
2 Aug 19 - New Zealand is not joining other Pacific countries in criticising Australia's plans to use Kyoto credits to meet its Paris Agreement target.

1 Aug 19 - Pacific leaders have called on Australia to abandon plans to use carry-over credits to meet Paris climate targets and to immediately stop new coalmining, warning some of their countries could be uninhabitable as soon as 2030.
22 Jul 19 - New Zealand sustainable energy company Infratec has successfully completed a $16 million project to deliver reliable renewable energy to four islands in the Cooks.
---
5 Jul 19 - The story of Kiritimati atoll sheds light on the issues facing those living on such islands all around the world, and the inadequacy of current international policy.
24 Jun 19 - Vanuatu, which has already introduced one of the toughest single-use plastic bans , is believed to be the first nation to propose a ban on disposable nappies.
5 Jun 19 - The rate that the Pacific Ocean takes up human-caused emissions of carbon has increased between 1991 and 2017, a new study finds.
23 May 19 - Pacific leaders have urged Australian Prime Minister Scott Morrison to do more to fight the climate crisis.
6 May 19 - The great swells of the Pacific are beginning to swell even more as fiercer ocean winds and waves leave their mark.
2 May 19 - More than 80 Fiji communities have been earmarked by the government for potential future relocation.
24 Apr 19 - Climate change planning for Pacific Islands cities and towns has been limited, despite their rapid growth.
23 Jan 19 - Fiji Prime Minister Frank Bainimarama used the Australian leader's visit to call out his promotion of fossil fuels, showing Scott Morrison is on the wrong side in the Pacific as well as at home.
23 Nov 18 - Vanuatu says it will explore whether it can take legal action against fossil fuel companies and countries for their role in causing climate change.
22 Nov 18 - The Marshall Islands is the first country to submit new, binding climate targets to the United Nations this week, sending a signal to other countries to commit to more ambitious emissions cuts.
20 Nov 18 - Prime Minister Jacinda Ardern used international talks in Papua New Zealand and Singapore to push for action on climate change, her office says.
8 Nov 18 - Palau is set to become the first country to ban reef-toxic sunscreen.
---