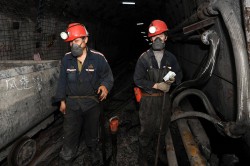 31 Jan 19 - Satellite data collected from 2010 to 2015 show that China's methane emissions increased unabated during that period and that the increase was most likely driven by coal mining.

29 Jan 19 - China's response to the demand for electricity has been to use advanced transmission technology that can bridge vast distances – technology that, ironically, harks back to the earliest days of electric power.

18 Dec 18 - China is producing so much food waste it has had to come up with some out-of-the-box thinking — like using a billion cockroaches to take care of the problem.

14 Dec 18 - All 16,000 buses in the fast-growing Chinese megacity of Shenzhen are now electric, and soon all 22,000 taxis will be, too.

6 Dec 18 - China has seen a bumper year for electric car sales, so it's no surprise that a number "new energy vehicles", as EVs are referred to in China, were the stars of the Guangzhou Auto Show.

28 Nov 18 - China still needs to do a lot of work before it can fully launch its long-awaited nationwide carbon emissions trading scheme.

23 Nov 18 - Mangrove forests could be adapting to climate change by growing beyond their usual range, according to a recent study.
---
12 Nov 18 - China will be urged to crack down on illegal CFC-11 production under an international declaration set for adoption at a meeting in Ecuador this week.
1 Nov 18 - A private aerospace institute in China plans to launch its own moon to save money on nightime lighting in a provincial city.
28 Sep 18 - Ninety-four per cent of the public think China should be in the Paris climate deal, although many don't know exactly what that means.
20 Sep 18 - Triumph or catastrophe? Where will China's climate path lead us all? So far there are both hopeful moves and warning signs, a new book says.
11 Sep 18 - China's fishery authorities have introduced hard-hitting punishments for overfishing and illegal fishing by the country's distant fishing vessels.
5 Sep 18 - Animal husbandry is contaminating China's water and has been linked to turning lakes bright green, a phenomenon known as eutrophication.
9 Aug 18 - Satellite imagery reveals that many coal-fired power projects that were halted by the Chinese government have quietly restarted.
2 Aug 18 - Both less than five years old, the Asian Infrastructure Investment Bank and Brics Bank are failing to back sustainable development models.
2 Aug 18 - The deadliest place on the planet for extreme future heatwaves will be the north China plain, one of the most densely populated regions in the world and the most important food-producing area in the...
25 Jul 18 - A new report from Columbia University has provided a clear assessment of China's role in responding to climate change.
12 Jul 18 - China issued $30 billion in green bonds in 2017, remaining the world leader in the market.
5 Jul 18 - China's carbon dioxide emissions fell from 2014 to 2016 and might already have peaked, according to a new study.
---