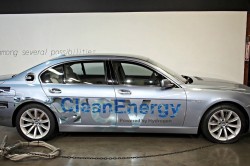 14 Nov 18 - As the price of renewable energy drops and storage technologies mature, hydrogen fuel is drawing fresh attention.

9 Nov 18 - Air New Zealand is preparing the way to operate hybrid planes on its domestic regional routes.

31 Oct 18 - Electric locomotives are to stay on the main trunk line.

30 Oct 18 - The International Maritime Organisation agreed this year to cut greenhouse gas emissions 50 per cent by 2050, but its members are struggling to agree on how to get there.

26 Oct 18 - Need help deciding whether or not to buy an electric vehicle?

26 Oct 18 - British vacuum cleaner king James Dyson is building an automotive factory in Singapore where his company will assemble its first electric car.

15 Oct 18 - The nation's mayors might on the front line for dealing with the impacts of climate change, but that doesn't mean they're going carbon-neutral in their choice of mayoral car.
---
15 Oct 18 - Incentives for consumers to buy hybrid and electric cars rather than diesel or petrol alternatives have been slashed by the UK government, adding thousands of pounds to the price of a new...
15 Oct 18 - Sometime this month, a million electric vehicles will have been sold in the United States. But does it matter?
4 Oct 18 - Mazda has laid out plans to revamp its product line-up, saying that all its vehicles will come with electric power by 2030.
4 Oct 18 - Nothing symbolises Italian urban chic quite like the Vespa. But in the city that gave birth to them, the diehards suddenly have a fight on their hands because of pollution.
3 Oct 18 - Uber has announced a $10 million investment over the next three years in sustainable mobility.
2 Oct 18 - Electric cars are poised to arrive en masse in European showrooms after years of hyped concept-car launches. The trick now is selling them at a profit.
1 Oct 18 - A Danish-flagged cargo ship has successfully passed through the Russian Arctic, in a trial voyage showing that melting sea ice could potentially open a new trade route from Europe to Asia.
20 Sep 18 - The European Commission's anti-competition team is looking into BMW, Daimler and the VW group for allegedly limiting the roll-out of technology meant to clean up car emissions.
20 Sep 18 - Three years after the Dieselgate scandal erupted, the number of highly polluting diesel vehicles on Europe's roads has risen to 43 million.
20 Sep 18 - Dozens of European countries are backing a plan to increase the use of hydrogen as an alternative to fossil fuels to cut the continent's carbon emissions.
20 Sep 18 - Germany has launched the world's first hydrogen train. It has a range of 960km on a single tank of hydrogen, similar to that of diesel trains.
18 Sep 18 - Google Street View cars will be outfitted with sensors that test air quality in cities and towns across the globe.
---