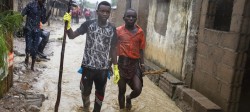 Today 11:00am - Climate change threatens to undo the past 50 years of development, global health and poverty reduction, a United Nations expert says, citing the risk of a new era of "climate apartheid" where the rich buy their way out of rising heat and hunger.

Today 11:00am - Investors managing more than $34 trillion in assets, nearly half the world's invested capital, are demanding urgent action from governments on climate change.

Today 11:00am - The warmer weather creeping into cities across America is cause for international concern, but there's one group that loves it– rats.

Today 11:00am - By the year 3000 Greenland could simply be green, with rocky outcrops and its icy mountains will have vanished.
Wednesday - Scientists from around the world are meeting in Germany to improve ways of making money from carbon dioxide.

Tuesday - Resolving the climate crisis demands radical political change, a British author argues: the end of free market capitalism.

Tuesday - One of the biggest problems with global warming has been the failure of science to communicate to people that it is actually happening.
---
Monday - The $2.5 trillion fashion business produces more carbon emissions than aviation and shipping combined.
20 Jun 19 - Morocco, Gambia, Bhutan, Costa Rica, Ethiopia, India and the Philippines are the good guys.
20 Jun 19 - The UK is set to host a critical global summit on the climate crisis at the end of 2020, at which the world's 190 nations must commit to deep cuts in emissions.
19 Jun 19 - Thirteen journalists who were investigating damage to the environment have been killed in recent years and many more are suffering violence, harassment, intimidation and lawsuits.
18 Jun 19 - A warmer world will be more dangerous. As the thermometer rises, so does the risk of conflict and bloodshed in more vulnerable regions.
18 Jun 19 - Developing countries are better than richer nations at promising to protect important agricultural species in the future, but do less well in safeguarding existing biodiversity.
12 Jun 19 - How much of a threat is climate meltdown? Should we treat it as the biggest danger to life in the 21st century, or as one of many problems − serious, but manageable?
12 Jun 19 - Human destruction of the living world is causing a "frightening" number of plant extinctions, according to scientists who have completed the first global analysis of the issue.
11 Jun 19 - If humanity continues dumping plastics into nature at the current rate, there will be more plastic than fish in the world's seas by 2050.
10 Jun 19 - This year's Global Plastics Summit revealed an industry that sees big growth ahead but also serious challenges, from plastics in the ocean to climate impact.
10 Jun 19 - Siberia, currently one of the most sparsely populated places in the northern hemisphere, could become a target for mass migration as the climate warms.
7 Jun 19 - Carbon dioxide levels recorded last month at the Mauna Loa atmospheric observatory in Hawaii reached an average of 414.7 parts per million. But in truth, the amount of greenhouse gas in our...
---