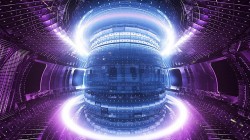 Wednesday - Recent reports from scientists pursuing a new kind of nuclear fusion technology are encouraging, but we are still some distance away from the "holy grail of clean energy".

Wednesday - Driving an electric-powered vehicle rather than one reliant on fossil fuels is a key way to tackle climate change and improve air quality − but it does leave the old batteries behind as a nasty residue.

Wednesday - The Arctic global seed vault has reached the milestone of having one million varieties stored in its deep freeze.

Wednesday - For years after northern Finland's largest printing plant blanketed its facility's eight roofs with solar panels, the curious beat a path to the extraordinary spectacle.

Wednesday - Older people can be nudged into taking action on climate change by getting them to think about their legacy, researchers say.

Tuesday - Australia's greenhouse gas emissions have dipped slightly on the back of new clean energy and a sharp fall from agriculture due to drought, but the decline was almost entirely wiped out by surging industrial pollution.

Tuesday - Ocean-going ships could be powered by ammonia within the decade as the shipping industry takes action to curb carbon emissions.
---
Tuesday - Over the past decade, almost $US200 billion has been invested globally in mobility technology that promises to improve our ability to get around.
Tuesday - The social media conversation over the climate crisis is being reshaped by an army of automated Twitter bots, with a new analysis finding that a quarter of all tweets about climate on an average day...
Monday - The Australian Coalition Government's safeguards mechanism was meant to stop rises in industrial emissions cancelling out cuts paid for by taxpayers – but it's a colossal failure.
Monday - Lustier plant growth as greenhouse gases climb should counter global heating and atmospheric carbon build-up. But it's not quite so simple.
Monday - Indonesia is the world's second-largest ocean plastic polluter, after China.
Monday - Climate-vulnerable Singapore will part ways with fossil fuel vehicles within the next two decades and throw its weight behind cleaner vehicles.
Monday - By ANDREW SPENCE | Adelaide-based Australian Gas Networks has been awarded $1.28 million in Federal Government funding to support a study into introducing renewable hydrogen into South Australian and...
Monday - Wood consumption has jumped 173 per cent in China over the past decade, and restrictions on felling primary forest mean the country relies on wood imports for over half its demand.
Friday - Sea levels might threaten coastal cities sooner than expected, scientists say, as ice loss speeds up and Antarctic temperatures rise.
Friday - As China battles one of the most serious virus epidemics of the century, the impacts on the country's energy demand and emissions are only beginning to be felt.
Friday - A flexible solar "skin" that could be used to generate power on homes, cars and phones is a step closer to development after the technology was used to break a world record for electricity...
Friday - All UK airports must close by 2050 for the country to reach its target of net zero climate emissions by then, scientists say.
---