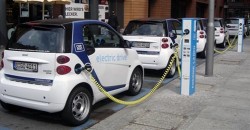 Thursday - Applications for the latest round of Government funding for low-carbon transport projects are open.

25 Jan 19 - Boeing says its flying car prototype hovered briefly in the air during an inaugural test flight, part of the race to change the face of the aerospace industry within the next decade.

25 Jan 19 - Luxembourg's recent announcement that all public transport in the country will be free from next year was received with astonishment.

11 Dec 18 - German auto giant Volkswagen is embarking on an electric spurt, pressing ahead with plans aimed at producing more than a million electric cars a year by 2025.

10 Dec 18 - Airlines are failing to take up the most efficient planes in sufficient numbers to make a significant dent in their carbon dioxide emissions, says a new study.

7 Dec 18 - The world's biggest shipping company, Maersk, wants to slash its carbon emissions to zero by developing a new kind of container ship to ply the oceans.

4 Dec 18 - Car makers served notice at the Los Angeles motor show that they're going electric, and introduced a few new models to some applause. But the lustiest cheers were for something else: the massive new Jeep Gladiator.
---
27 Nov 18 - The captain of a cruise ship found to be burning fuel with excessive sulphur levels has been fined €100,000 ($NZ166,000) in a Marseille court, the first such ruling in France.
14 Nov 18 - As the price of renewable energy drops and storage technologies mature, hydrogen fuel is drawing fresh attention.
9 Nov 18 - Air New Zealand is preparing the way to operate hybrid planes on its domestic regional routes.
31 Oct 18 - Electric locomotives are to stay on the main trunk line.
30 Oct 18 - The International Maritime Organisation agreed this year to cut greenhouse gas emissions 50 per cent by 2050, but its members are struggling to agree on how to get there.
26 Oct 18 - Need help deciding whether or not to buy an electric vehicle?
26 Oct 18 - British vacuum cleaner king James Dyson is building an automotive factory in Singapore where his company will assemble its first electric car.
15 Oct 18 - The nation's mayors might on the front line for dealing with the impacts of climate change, but that doesn't mean they're going carbon-neutral in their choice of mayoral car.
15 Oct 18 - Incentives for consumers to buy hybrid and electric cars rather than diesel or petrol alternatives have been slashed by the UK government, adding thousands of pounds to the price of a new...
15 Oct 18 - Sometime this month, a million electric vehicles will have been sold in the United States. But does it matter?
4 Oct 18 - Mazda has laid out plans to revamp its product line-up, saying that all its vehicles will come with electric power by 2030.
4 Oct 18 - Nothing symbolises Italian urban chic quite like the Vespa. But in the city that gave birth to them, the diehards suddenly have a fight on their hands because of pollution.
---