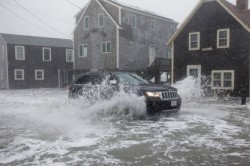 19 Jun 18 - More than 150,000 US homes and businesses could face frequent high-tide flooding within 15 years. That could double by 2045, a new report says.

12 Jun 18 - Leadership in addressing climate change in the United States has shifted away from the national capital Washington.

8 Jun 18 - Billionaire industrialist David H. Koch is stepping away from his political and business interests because of declining health.

7 Jun 18 - Hawaii has set the most ambitious climate goal in the US by signing a bill to become carbon neutral by 2045.

6 Jun 18 - President Trump has ordered his energy secretary to take immediate action to stem US power plant closures, arguing that a decline in coal and nuclear electricity is putting the nation's security at risk.

6 Jun 18 - California has been given the go-ahead to expand electric vehicle infrastructure and rebate programmes with a total budget of more than $750 million.

30 May 18 - An environmental group's analysis shows the five largest United States banks have started lending to coal companies again now that they're out of bankruptcy.
---
28 May 18 - Beekeepers in the US have reported an increase in honeybee deaths over the past year, possibly the result of erratic weather patterns brought on by a changing climate.
25 May 18 - The EPA this month could finalise a controversial rule to limit what scientific research the agency can use in writing US environmental regulations.
23 May 18 - US Navy town Norfolk sees itself as a living lab for coastal resilience, one in desperate need of solutions as flooding worsens. Not every neighborhood will be saved.
23 May 18 - New York State has proposed telling coal plants to change the way they operate, or close down.
21 May 18 - Alaska, a major oil and gas producer, is crafting a plan to address climate change.
21 May 18 - The Earth is not warming. The White Cliffs of Dover are tumbling into the sea and causing sea levels to rise. Global warming is helping grow the Antarctic ice sheet. Those are some of the skeptical...
16 May 18 - Investors managing more than $2.5 trillion have warned oil firms and banks to shun moves by US president Donald Trump to open an Arctic national wildlife refuge to drilling.
15 May 18 - In a grand experiment, California switched on a fleet of high-tech greenhouse gas removal machines last month.
11 May 18 - California continues to lead the US in electric car sales but it faces a long, hard road before it can achieve its goal of getting five million emissions-free vehicles on the road in 12 years.
9 May 18 - Donald Trump is simultaneously chided for refusing to cut greenhouse gas emissions, and for promoting a trade policy that reduces the causes of such emissions.
4 May 18 - A Southern California man who built a sizable business out of recycling electronic waste is headed to federal prison for 15 months.
1 May 18 - The stark climatic border in the US separating the sultry east from the dry west is rapidly shifting - a change that could have a significant future impact.
---