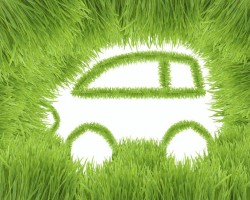 Friday - Hydrogen cars won't overtake electric vehicles because they're hampered by the laws of science.

29 May 20 - The coronavirus pandemic has grounded thousands of aircraft, contributing to the largest-ever annual fall in CO2 emissions. But at some point the planes will fly again and with them, global emissions.

26 May 20 - Bullet trains are back on Australia's political agenda. As the major parties look for ways to stimulate the economy after the COVID-19 crisis, Labor is again spruiking its vision of linking Melbourne, Sydney, Canberra and Brisbane with high-speed trains similar to the Eurostar, France's TGV or Japan's Shinkansen.

25 May 20 - Replacing just 20 per cent of car miles travelled with e-bike travel could cut Britain's greenhouse gas emissions from transport by up to eight million tonnes a year, new research shows.

22 May 20 - A proposal for new trains to replace diesel engines with electric and expand Wellington's regional rail service has won Government funding – but only to see if the business case stacks up.

14 May 20 - A third of new Toyota vehicles sold in New Zealand are hybrids, the company says.

4 May 20 - National is resisting moves to run the country's rail network on a less-than-purely-commercial footing.
---
29 Apr 20 - Mercedes-Benz is killing its programme to develop passenger cars powered by hydrogen fuel cells.
21 Apr 20 - A third of New Zealanders intend travelling again when covid-19 pandemic restrictions are lifted, new research shows.
6 Apr 20 - Financial help from taxpayers to airlines hit by the coronavirus crisis must come with strict conditions on their future climate impact, green campaigners have said.
25 Mar 20 - Electric vehicles produce less carbon dioxide than petrol cars across the vast majority of the globe – contrary to the claims of some detractors, who have alleged that the CO2 emitted in the...
20 Mar 20 - General Motors' Bolt and Volt models never sold well, but now the company is touting a battery that has more range than Tesla's.
27 Feb 20 - A new study finds the ride-hailing companies emit nearly 70 percent more carbon thanks largely to a practice known as "deadheading."
26 Feb 20 - Carbon prices of $50 a tonne – the figure the Government is putting forward as the new price cap – could put the price of diesel up 13c a litre and petrol up 7c a litre.
25 Feb 20 - Air New Zealand is working with the US National Aeronautics and Space Administration to monitor climate change in New Zealand.
25 Feb 20 - Ocean-going ships could be powered by ammonia within the decade as the shipping industry takes action to curb carbon emissions.
25 Feb 20 - Over the past decade, almost $US200 billion has been invested globally in mobility technology that promises to improve our ability to get around.
21 Feb 20 - Wellington will get more electric buses as part of a drive to slash emissions.
21 Feb 20 - Auckland's public transport system is finally as popular as it was in the 1950s – albeit with five times the population.
---