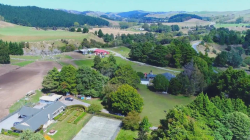 Today 12:00pm - Parliament is under increasing pressure to let farmers claim credit for carbon stored in trees and soils on their land.

Friday - The low-carbon future is hemp, says a company dedicated to making the once-banned product the backbone of the New Zealand economy.

Friday - Implementing the zero-carbon bill could see about 10 per cent of current farmland converted to forests, the Ministry for the Environment says.

Friday - Ten years ago, climate minister Nick Smith was telling business that he wanted a "settled" Emissions Trading Scheme with widespread political support.

Thursday - The country's largest carbon-farming company says there is more marginal land available for forestry than officials are telling the Government.

Thursday - Ten years ago, the backers of a wood-to-bio-oil project in Auckland were getting excited about their technology.

Wednesday - Farming for soil-carbon credits offers landowners in New Zealand and other OECD agricultural countries a vast potential to make money, says a global carbon markets pioneer.
---
Wednesday - It's getting hard to remember a time when the Emissions Trading Scheme was not under review, but 10 years ago, the results of the very first review were about to be reported back to Parliament.
20 Aug 19 - A think-tank representing some of the biggest companies operating in New Zealand wants international carbon credits to be treated the same as domestic emissions reductions.
20 Aug 19 - Ten years ago, there were predictions Australia could earn more from trading carbon credits than it was earning from selling coal.
19 Aug 19 - A consortium of experts is calling for New Zealand to be carbon-neutral by 2040 and a doubling of the Government's methane reduction-target.
19 Aug 19 - Ten years ago, New Zealand farmers were impressing with the amount of carbon they were storing in soils.
16 Aug 19 - Pacific Islanders' fears of the effects of climate change which occupied their leaders for 12 tense hours at the South Pacific Forum overnight were passionately voiced in Auckland this morning by a...
16 Aug 19 - Ten years ago, the world was being told that emissions reduction commitments made under the Kyoto Protocol by rich countries were insufficient to stop the worst impacts of climate change.
15 Aug 19 - A seaweed that can cut livestock methane emissions is almost ready for commercial production, scientists say.
15 Aug 19 - The Government went beyond officials' advice in proposing cuts in methane emissions of up to 47 per cent, briefing papers show.
15 Aug 19 - Ten years ago, talks seeking bipartisan support for the Emissions Trading Scheme were breaking down over the National Party's desire to keep agricultural out of the scheme.
14 Aug 19 - The country's largest private energy company says gas should continue to play a large part in New Zealand's energy mix - and that climate action shouldn't come at the expense of economy or living...
14 Aug 19 - Ten years ago, the Australian Senate voted down Prime Minister Kevin Rudd's climate-change packages. Nevertheless, New Zealand's climate minister, Nick Smith, was still hoping to see trans-Tasman...
---