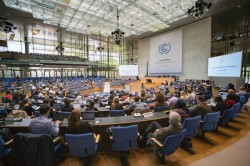 Monday - Developing countries and green groups want to limit conflicts of interest in the global climate talks. Corporate lobbyists and rich countries oppose the plan.

Monday - A fortnight of climate talks in Bonn ran smoothly enough, but political tensions await the Pacific islands presidency at the next summit in November.

Monday - Scientists fear that Antarctica's ice sheet might have entered the early stages of an unstoppable disintegration.

Monday - The Climate Council is warning of serious risks to the environment, public health and North Queensland tourism, if plans for Australia's largest coal mine go ahead.

Monday - Experts have challenged a claim by Bjørn Lomborg's Copenhagen Consensus Centre that holding global temperature rises to 2deg is a poor investment.

Monday - Sharing energy-saving ideas such as using seawater pumps to heat buildings is helping big charities and businesses to cut costs while protecting the planet.

Friday - Former climate heroes France, Finland, Sweden and Austria are fighting tooth and nail to weaken EU land accounting rules, also known as the LULUCF Regulation.
---
Friday - Leaving the EU treaty that prevents radioactive waste falling into the wrong hands could prove costly for the UK nuclear industry.
Friday - People around the world are sufferng from ecoanxiety, a feeling of impending environmental doom.
Friday - Multinational supermarket Tesco has pledged to source all of its electricity from renewables by 2030 in addition to cutting its emissions by 60 per cent by 2025.
Friday - The largest wind turbines in the world have begun generating electricity off the coast of Liverpool.
Thursday - A push from developing countries to force fossil fuel lobbyists taking part in the Bonn climate talks to declare their conflicts of interest has won a significant battle against resistance from...
Thursday - Well-meaning nations who find their Pacific aid projects don't work out might find the reason, in part, is the sidelining of God.
Thursday - Unilever will pilot an innovative technology to recycle plastic sachets, preventing billions of sachets entering oceans and landfill.
Thursday - A plague of armyworms is marching across Africa, devastating crops, and claiming new territory at an alarming rate
Thursday - An Indian coal-fired power plant is to be paid $150 million this financial year for generators that are sitting idle.
Thursday - Funding from Shell and other oil majors has turned a prestigious Dutch University into a conduit for fossil fuel policy gambits, according to an explosive new report.
Wednesday - Henderson Island, part of the Pitcairn group, is covered by 18 tonnes of plastic – the highest density of anthropogenic debris recorded anywhere in the world
Wednesday - If over-grazing continues to cause soil degradation, we won't be able to feed people in the future. The answer? Eat grass-fed sustainable meat – or none at all.
---