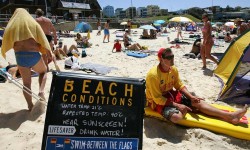 Tuesday - It was 48.9C last Tuesday in Port Augusta, South Australia, an old harbour city that now harvests solar power.

20 Dec 18 - Australia will experience more extreme heat, longer fire seasons, rising oceans and more marine heatwaves.

17 Dec 18 - Sydney and Melbourne have committed themselves to phasing out coal, in a move at odds with the Australia's aggressively pro-coal national government.

14 Dec 18 - Whyalla's death notice has been written a number of times but the South Australian industrial town's future took a big step forward in 2017 when British-based industrialist Sanjeev Gupta bought the steelworks.

6 Dec 18 - Politicians around Australia are proposing ambitious plans to export renewable energy from Australia, using high-voltage power lines laid under the oceans.

5 Dec 18 - Indian mining multinational Adani has announced that it will self-fund a significantly smaller coal mine in Queensland, after failing to secure finance from more than 30 domestic and international banks and lenders.

4 Dec 18 - The Western Australia city of Kwinana is using a somewhat obvious, simple and cost-effective system of nets to prevent waste from entering its waters.
---
3 Dec 18 - Thousands of schoolchildren across Australia walked out of class on Friday to demand action by the federal government on climate change.
3 Dec 18 - By most accounts, Adelaide's giant lithium-ion battery - the world's largest - has been a remarkable success. But there are some concerns that have so far escaped scrutiny.
27 Nov 18 - The relief from Victoria's stunning election result last weekend was palpable.
27 Nov 18 - Australian Prime Minister Scott Morrison has been labelled "out of touch" for angrily condemning a national student strike to protest government inaction on climate change.
8 Nov 18 - Hundreds of students around Australia are preparing to strike from school because of what they say is a failure by politicians to recognise climate change as an emergency.
7 Nov 18 - The record hot weather being experienced across prts of Australia is now the new normal as the effects of climate change become baked-in.
7 Nov 18 - Insects near waste water could give a platypus or trout half a daily human dose of antidepressants, a new study reveals.
6 Nov 18 - In the parlance of climate science, a "tipping point" is a dire prospect – a critical threshold breach that triggers an abrupt and rapid change in climate.
2 Nov 18 - New South Wales has launched one of the most significant energy transition projects in Australia designed to help to replace most of the state's ageing coal plants with wind, solar and storage.
31 Oct 18 - The relentlessly corrosive nature of Australian political debate about climate change can sometimes mask that this is a golden moment for the clean energy industry.
29 Oct 18 - July 2018 in Darwin was 2deg hotter than any previous July and the record heat has continued. Surveys show that it's the reason people are leaving the city.
26 Oct 18 - If the Wentworth and Wagga Wagga by-elections in Austraia were supposed to send a message to the Coalition government about the need to act on carbon emissions and embrace renewables, it hasn't...
---