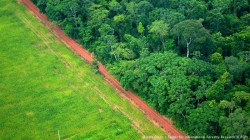 Today 10:00am - The Brazilian government has pledged to reinstate a mining ban in an Amazonian nature reserve, reversing its earlier course after an international outcry.

4 Sep 17 - No tropical forests anywhere in the world are being destroyed more rapidly than the Chaco, stretching across Argentina, Bolivia and Paraguay. Mostly, the trees provide fuel for barbecues.

29 Aug 17 - Brazilian president Michel Temer has abolished an Amazonian reserve the size of Denmark, prompting concerns of an influx of mineral companies, road-builders and workers into the species-rich forest.

24 Aug 17 - Misty rain is giving way to fear of flash floods as Brazilian downpours cause chaos in the country's biggest city.