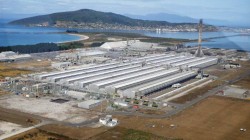 Friday - Mining giant Rio Tinto says it wants its globe-spanning operations to reach net zero greenhouse gas emissions by 2050 and will spend $US1 billion over the next five years to reduce its carbon footprint.

Friday - Reputational damage, financial vulnerability and a lack of access to capital are likely impacts on firms that fail to respond to the climate crisis this decade, experts surveyed for a new study say.

Friday - The Netherlands is under pressure to slash emissions in sectors such as power generation and agriculture after a ruling by a top court made the government a reluctant test case for tougher global climate policies.

Friday - If you're confused what the "circular economy" is, or what it means for a company to go "net-zero," you're far from alone.

Friday - FIFA aims to reach carbon neutrality at the next World Cup, to be hosted by Qatar in 2022, in spite of environmental challenges linked to the location of the event.

Thursday - Climate change could become a "catastrophic" threat to global security, as people lose their livelihoods, fall ill and battle over scarce water and food, a host of US security, military and intelligence experts have warned.

Thursday - JPMorgan Chase, one of the world's biggest lenders to fossil fuel projects, will curb loans to coal firms and bar the financing of oil and gas developments in the Arctic.
---
Thursday - Within 50 years, a third of all plant and animal species could be caught up in a mass extinction, as a consequence of climate change driven by ever-rising temperatures. What is new about this warning...
Thursday - A new study finds the ride-hailing companies emit nearly 70 percent more carbon thanks largely to a practice known as "deadheading."
Wednesday - Recent reports from scientists pursuing a new kind of nuclear fusion technology are encouraging, but we are still some distance away from the "holy grail of clean energy".
Wednesday - Driving an electric-powered vehicle rather than one reliant on fossil fuels is a key way to tackle climate change and improve air quality − but it does leave the old batteries behind as a nasty...
Wednesday - The Arctic global seed vault has reached the milestone of having one million varieties stored in its deep freeze.
Wednesday - For years after northern Finland's largest printing plant blanketed its facility's eight roofs with solar panels, the curious beat a path to the extraordinary spectacle.
Wednesday - Older people can be nudged into taking action on climate change by getting them to think about their legacy, researchers say.
Tuesday - Australia's greenhouse gas emissions have dipped slightly on the back of new clean energy and a sharp fall from agriculture due to drought, but the decline was almost entirely wiped out by surging...
Tuesday - Ocean-going ships could be powered by ammonia within the decade as the shipping industry takes action to curb carbon emissions.
Tuesday - Over the past decade, almost $US200 billion has been invested globally in mobility technology that promises to improve our ability to get around.
Tuesday - The social media conversation over the climate crisis is being reshaped by an army of automated Twitter bots, with a new analysis finding that a quarter of all tweets about climate on an average day...
Monday - The Australian Coalition Government's safeguards mechanism was meant to stop rises in industrial emissions cancelling out cuts paid for by taxpayers – but it's a colossal failure.
---