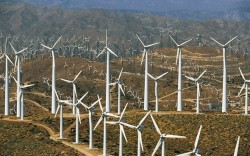 Thursday - Few ideas in climate science have gained greater public attention in the last decade than the concept of the "carbon budget".

Thursday - Sales of new electric vehicles will reach 11 million within the next eight years, according to new analysis.

Thursday - Roughly one-third of the global protected area estate - a staggering six million square kilometres - is under intense human pressure, a new study reveals.

Thursday - Dry rivers can emit significant amounts of carbon dioxide when water starts to flow, new research shows.

Wednesday - An increasing number of reports are identifying limiting global warming to 1.5deg as critical for the future of humans and nature.

Wednesday - US Navy town Norfolk sees itself as a living lab for coastal resilience, one in desperate need of solutions as flooding worsens. Not every neighborhood will be saved.

Wednesday - Humankind is revealed as simultaneously insignificant and utterly dominant by a groundbreaking new assessment of all life on the planet.
---
Wednesday - A former coal plant in the north of England will become the test site for a new way to remove carbon dioxide from electricity generation.
Wednesday - New York State has proposed telling coal plants to change the way they operate, or close down.
Wednesday - Researchers found a way to turn carbon pollution into graphite, a component widely used in batteries.
Tuesday - Royal Dutch Shell faces a shareholder challenge over climate change this week, as investors insist oil and gas firms should offer more transparency and action on carbon emissions.
Tuesday - Concerns over urban air quality and the rise in global temperatures have spurred technological innovation by car makers, meaning that the era of dirty diesel is now over.
Tuesday - The United Nations has warned the UK government that the country's reputation is at risk over plans that would significantly weaken protections for the environment after Brexit.
Tuesday - Electronic devices need to be repaired - and upgraded - if we are to slow our production of e-waste.
Tuesday - The kelp forests – those towering submarine tangles of brown seaweeds – might not survive the steady change of ocean chemistry.
Tuesday - Climate change means warmer and earlier springs. And that may be of no help to those bird species that get the timing wrong.
Monday - The shipping industry is concerned that compared with traditional fuels, greener alternatives have a greater potential to cause major accidents.
Monday - Elon Musk might need to tap capital markets for more than $10 billion by 2020 to fund Tesla's automaking operations, new products and an expected expansion into China,
Monday - Alaska, a major oil and gas producer, is crafting a plan to address climate change.
---