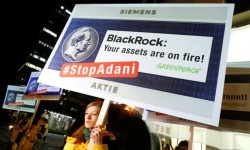 Wednesday - BlackRock, the world's biggest investment fund manager, has threatened to sell shares in the worst corporate polluters in a bid to support the goal of net-zero carbon dioxide emissions by 2050.

Wednesday - Improving energy efficiency creates far more jobs than generating it, and at the same time provides a way out of the covid crisis by bringing prosperity.

9 Dec 20 - The operator of the Huntly coal-and-gas-fired power station says it will cut greenhouse gas emissions in line with the Paris Agreement.

8 Dec 20 - The much-loved combination of beer and chips is being harnessed to tackle climate change.

7 Dec 20 - Gas suppliers, users and consultants are joining forces to assess the potential to use biogas to power industry and homes.

30 Nov 20 - Like hydrogen, ammonia can play a key role in decarbonising Europe's heavy industry and transport. So why isn't it grabbing the headlines in the same way?

27 Nov 20 - Genesis Energy – one of the country's biggest emitters of greenhouse gases – is considering selling its stake in the Kupe oil and gas field, freeing up money it could invest in renewable generation.
---
27 Nov 20 - News that two more reactors in the United Kingdom are to shut down on safety grounds earlier than planned has capped a depressing month for nuclear power in Europe.
26 Nov 20 - By GAVIN EVANS | Natural gas, especially when combined with carbon capture use and storage, can play a critical role meeting the world's net-zero carbon targets, BP economist Michael Cohen says.
25 Nov 20 - Financing for coal projects is drying up at ever increasing rates as more countries target zero carbon emissions amid an energy transition sweeping the world, participants at Asia's biggest gathering...
24 Nov 20 - New Zealand's latest and largest solar farm is being partially funded by cryptocurrency.
24 Nov 20 - Dozens of oil and gas companies have committed to report more accurately on and, ultimately, reduce emissions of the potent greenhouse gas methane which is liable to leak from oilfields and pipelines.
20 Nov 20 - Mary Heglar has a "maniacal plan" to save the planet. It doesn't involve shutting down pipelines or protesting in the streets. Heglar has simply been "trolling the shit out of fossil fuel companies"...
12 Nov 20 - Blackrock has increased its stake in Meridian as part of its carbon-divestment strategy.
12 Nov 20 - Businesses wanting to stop using coal and gas for heat can tap into a new $70 million fund.
10 Nov 20 - Radical decarbonisation in line with the Paris Agreement means getting used to living in a world without abundant supplies of energy, ecologist Dr Mike Joy is warning.
10 Nov 20 - Is hydrogen the lifeblood of a low-carbon future, or an over-hyped distraction from real solutions?
6 Nov 20 - Large-scale geothermal energy has long been constrained to volcanic areas where heat can easily be captured and turned into electricity. Today, breakthroughs in drilling techniques are opening new...
6 Nov 20 - Rising demand for cooling and heating in commercial buildings has pushed up their carbon emissions - could temperature-sensitive windows help?
---