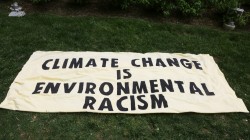 Thursday - Teen Vogue takes a look at environmental racism and how it impacts on people of colour.

Wednesday - When President Joe Biden introduced his $2 trillion infrastructure plan, he mentioned "climate" only once and jobs 28 times.
Wednesday - With income from sequestering carbon in its forests, California's Yurok tribe has supported youth programming, housing, road improvement, and businesses development.

Tuesday - Joe Biden faces a key test of his commitment to climate action this week, when he sets out his core plans for tackling the climate crisis and calls on all of the world's major economies to join him in bold action to slash greenhouse gas emissions in the next ten years.

16 Apr 21 - Federal Reserve Chair Jerome Powell on Wednesday defended the Fed's increasing scrutiny of the threat that climate change could pose to the health of the United States' banks.
16 Apr 21 - Climate change appears to be high on the agenda for tech billionaires like Elon Musk, Jeff Bezos and Bill Gates but some are questioning whether they're focusing their efforts on the right areas.

14 Apr 21 - More than 300 businesses have called on President Joe Biden to nearly double U.S. targets to reduce planet-warming emissions below 2005 levels by 2030.
---
6 Apr 21 - The New York Times takes a deep dive into the question of whether climate change action will create or destroy jobs.
1 Apr 21 - United States President Joe Biden says his new infrastructure plan will allow "transformational progress in our ability to tackle climate change" by bolstering investments in clean energy, electric...
22 Mar 21 - Canceled four years ago by a president who considered global warming a hoax, climate crisis information has returned to the website of the US government's Environmental Protection Agency (EPA) as...
17 Mar 21 - America's finance industry has backed polluters for decades. Now, amid growing pressure, Wall Street says it is going green.
16 Mar 21 - The series of severe droughts and heatwaves in Europe since 2014 is the most extreme for more than 2,000 years, research suggests.
15 Mar 21 - United States Special Presidential Envoy for Climate John Kerry says he is concerned about the implications of the European Union's plans for a carbon border tax.
11 Mar 21 - United States climate envoy John Kerry says Europe and Washington need to align on climate policy, confirming the new US administration's policy shift away from Donald Trump's roll-back of...
10 Mar 21 - The United States must halve its planet-heating emissions by the end of the decade to spur other countries to greater action, says a coalition of American environmental groups.
8 Mar 21 - Twelve years ago, the American Petroleum Institute ran an ad in the print version of the Washington Post. "If you like $4 gasoline," it read, "you'll love the House Climate Bill."
4 Mar 21 - When Weatherly Oil and Gas filed for bankruptcy in February 2019, the company was walking away from several hundred Texas wells.
24 Feb 21 - United States federal energy regulators say they will examine threats that climate change and extreme weather events pose to the country's electric reliability in the wake of last week's deadly Texas...
23 Feb 21 - Big companies donated to climate deniers in the US Congress—even while claiming to care about climate change. When those same lawmakers denied the results of the presidential election, the bill came...
---