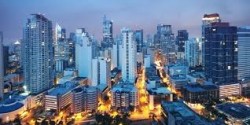 Today 9:00am - The Philippines Government will no longer accept proposals to build new coal power plants, in a significant policy shift designed to boost the deployment of renewable energy.

Today 9:00am - New polling shows 79 per cent of Australians care about climate change. So why doesn't the Government listen?

Today 9:00am - Exxon knew, Shell knew, coal knew — is it any surprise that top auto manufacturers knew, too?

Today 9:00am - Step by step, hydrogen has worked its way into the heart of the energy transition: as a storage medium for renewable energy; a fuel of the future for ships and planes; and a replacement for fossil fuels in homes, power and industry.

Thursday - After decades spent extracting fossil fuels from the UK's North Sea, a consortium of oil companies is preparing to pump Britain's greenhouse gas emissions back beneath the seabed to help meet the government's climate ambitions.

Thursday - The European Union is trying to remove fossil fuels from the list of investments protected by the Energy Charter Treaty to stop its member states being sued over climate action.

Thursday - South Korea is the latest country to pledge to be carbon-neutral by 2050.
---
Wednesday - Scientists have found evidence that frozen methane deposits in the Arctic Ocean – known as the "sleeping giants of the carbon cycle" – have started to be released over a large area of the continental...
Wednesday - India's southern city of Hyderabad is known as a high-tech hub - but its infrastructure is looking increasingly dated in an era of strengthening climate change impacts.
Wednesday - While this year will be memorable for many reasons, it is now more likely than not that 2020 will also be the warmest year for the Earth's surface since reliable records began in the mid-1800s.
Wednesday - Half a planet apart, one low-lying and the other on the roof of the world, two huge regions confront an increasing dust risk − a menace to jobs, to food and to lives.
Tuesday - Spot NZUs opened at $35.05 bid and $35.10 offered on CommTrade this morning, after last fixing at $35.07.
Tuesday - Japan's prime minister, Yoshihide Suga, has said the country will become carbon neutral by 2050, heralding a bolder approach to tackling the climate emergency by the world's third-biggest economy.
Tuesday - Twenty-eight countries, one American state and the European Union says they are committed to being carbon-neutral by 2050.
Tuesday - The European Commission will not stand in the way of countries that choose to build new nuclear power stations, said EU climate chief Frans Timmermans.
23 Oct 20 - The World Bank's private lending branch is indirectly backing one of the world's biggest new coal complexes, despite a new green policy.
23 Oct 20 - Electric cars will cost the same to make as conventional cars, with internal combustion engines, by 2024, according to new research.
23 Oct 20 - Forests are the planet's biggest carbon "sink" – absorbing more carbon dioxide from the atmosphere than they emit – but their contribution to cooling the earth's climate is currently not fully...
22 Oct 20 - Switzerland has struck a carbon offsetting agreement with Peru, in what the two nations say is the first deal of its kind under Article 6 of the Paris agreement.
---