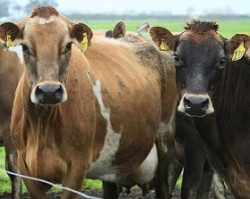 Monday - California has adopted strict rules for the control of methane, including how to reduce emissions from the state's 1.4 million dairy cows.

Monday - Small tweaks to flight paths could reduce the effects that aircraft have on climate by as much as 10 per cent, a new study shows.

Monday - The United Nations is acknowledging that some countries might be retreating in the effort to fight climate change, recognising an emerging fissure in the landmark Paris Agreement as US President Donald Trump moves forward with plans to gut environmental programmes.

Monday - The future for China is likely to become increasingly unclear – and lurking behind the obscured outlook in the nation's capital is the spectre of climate change.

Monday - Imagine, for a second, that the slice of delectable cake melting in your mouth was made with flour ground from insects not grains.

Monday - Scientists in the US have proved it yet again that, in a rapidly warming world, mammals face a diminished future.

Friday - Carbon fibre is increasingly celebrated as a wonder material for the clean economy.
---
Friday - Oil theft is fuelling terrorist groups and drug cartels around the world, according to a new analysis.
Friday - A plan to halve carbon emissions every decade, while green energy continues to double every five years, provides a simple but rigorous roadmap to tackle climate change, scientists say.
Friday - Australia's most polluting power station, Hazelwood, is set to become the ninth coal-fired power station to close its doors, as the nation's transition from fossil fuels to clean renewable energy...
Friday - The extent of Arctic ice has fallen to a new wintertime low, as climate change drives freakishly high temperatures in the polar regions.
Friday - London's iconic black cabs are going green with the opening of a £300 million electric vehicle manufacturing plant.
Friday - The world's most widely used insecticides would be banned from all fields across Europe under draft regulations from the European commission.
Thursday - The amount of new coal power being built around the world fell by nearly two-thirds last year, prompting campaigners to claim the polluting fossil fuel is in freefall.
Thursday - Local governments around Europe paid €7.6 billion to light public streets in 2015. But their bills could be cut down by up to 70 per cent if local governments are willing to shell out extra funds to...
Thursday - Humans are in the process of changing the planet in a way that hasn't happened in 2.6 million years.
Thursday - Scientists in California who turned a patch of natural grassland into a laboratory have established a subtle link between flowering times and the mix of species in an ecosystem – indicating that...
Thursday - Norway has some of the most ambitious emissions policies in the world, but is opening oil fields that cannot pay back in a safe climate future.
Thursday - Princess Anne has strongly backed genetically modified crops, saying she would grow them on her own land and that GM livestock would be a "bonus".
---