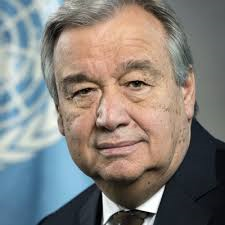 Today 11:00am - UN chief Antonio Guterres is calling on world leaders to bring plans, not speeches to a climate summit he is hosting in September.

Today 11:00am - Should we become vegetarians? Is it OK to fly? The author of There Is No Planet B, a Handbook for the Make or Break Years, answers the big questions.

Tuesday - While the push for a more sustainable fashion market is in its early days, individuals can still make easy choices right now to have a more environmentally friendly style.

Monday - Russia is considering climate legislation that could give the world's fifth largest emitter a framework for regulating carbon emissions for the first time.

Monday - Insurers have warned that climate change could make cover for ordinary people unaffordable after the world's largest reinsurance firm blamed global warming for $24bn of losses in the Californian wildfires.

21 Mar 19 - Author and scientist Tim Flannery, who has returned to his roots at the Australian Museum, says the world is about to see a major shift towards climate action.

21 Mar 19 - A volunteer conservation army could mobilise young people who want to fight climate change by channelling them into work to restore ecosystems.
---
20 Mar 19 - Just suppose we could see a way to transform the global economy, society and even the environment so that they met real needs, and promised to go on doing so far into the future. Well, we can. And...
18 Mar 19 - The US has joined Saudi Arabia to derail a UN resolution that sought to improve the world's understanding of potential efforts to lace the sky with sunlight-reflecting aerosols or use carbon-catching...
18 Mar 19 - Scientists were warning about the risks of climate change and the burning of fossil fuels before today's world leaders were Greta Thunberg's age.
15 Mar 19 - Earth is sick with multiple and worsening environmental ills killing millions of people yearly, a new UN report says.
15 Mar 19 - Extractive industries are responsible for half of the world's carbon emissions and more than 80 per cent of biodiversity loss, according to a comprehensive new survey.
14 Mar 19 - The number of early deaths caused by air pollution is double previous estimates, according to research, meaning toxic air is killing more people than tobacco smoking.
14 Mar 19 - As human growth adds to our numbers and demands, other species' survival chances shrink. Scientists can now name 1,700 creatures at ever greater risk.
13 Mar 19 - Nearly 14 per cent of global greenhouse gas emissions will be subject to a carbon price this year, World Bank figures show.
13 Mar 19 - Sales of synthetic chemicals will double over the next 12 years with alarming implications for health and the environment, according to a new global study.
12 Mar 19 - By 2050, half the world's population could be at risk of mosquito-borne diseases like dengue fever or the Zika virus, new research suggests.
11 Mar 19 - Driving is ruining our lives, and triggering environmental disasters. Only drastic action will kick our dependency.
8 Mar 19 - Mining giant Glencore spent millions bankrolling a secret, globally coordinated campaign to prop up coal demand.
---