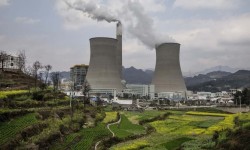 Friday - The renewed upward march of global carbon emissions is worrying and a big step backwards in the fight against climate change, according to BP.

Friday - By ADAM FRANK | In 1968, the astronaut William Anders looked out from his moon-circling Apollo 8 capsule and saw the mottled blue Earth emerging over the gray lunar horizon.

Friday - Elon Musk will cut his work force by about 9 per cent, or roughly 3500 of Tesla's 37,500 employees, as part of a company-wide restructuring.

Thursday - Enough concrete has been produced to cover the entire surface of the Earth in a layer two millimetres thick.

Thursday - Two new studies looking at corn and vegetables warn of a rising risk of food shocks and malnutrition with unchecked global warming.

Thursday - The shrinking Sea of Galilee, the inland lake where Christians believe Jesus walked on water, is to be topped up with desalinated seawater.

Wednesday - Communities would get more value by spending before a disaster, instead of after, says an insurance industry leader.
---
Wednesday - Soccer fans travelling to Russia for the World Cup beginning this week are being encouraged to offset their emissions through a UN scheme that critics describe as fundamentally flawed.
12 Jun 18 - Divestment from fossil fuels has become one of the fastest growing political campaigns in human history, surpassing similar battles against the tobacco industry and the fight against apartheid in...
12 Jun 18 - Energy efficiency, radical changes to diet, and renewable energy can together save the planet, an internationsal team of scientists says.
12 Jun 18 - Campaigners are planning a wave of climate demonstrations across the world in September to spur leaders into action and demand greater climate commitments.
11 Jun 18 - Pope Francis has told oil company chiefs that the world must switch to clean energy because climate change risks destroying humanity.
7 Jun 18 - The major industrial nations spend at least $100 billion each year to prop up oil, gas and coal consumption, despite vows to end fossil fuel subsidies by 2025, a new report says.
6 Jun 18 - Plunging prices for renewable energy and rapidly increasing investment in low-carbon technologies could leave fossil fuel companies with trillions in stranded assets and spark a global financial...
6 Jun 18 - German chemicals and pharmaceuticals giant Bayer will discard the name Monsanto when it takes over the controversial US seeds and pesticides producer this week.
5 Jun 18 - Avoiding meat and dairy products is the single biggest way to reduce your environmental impact on the planet, according to the scientists behind the most comprehensive analysis to date of the damage...
5 Jun 18 - The Vatican will host executives of the world's top oil companies for a conference this week on climate change and the transition away from fossil fuels.
1 Jun 18 - Meat and fish companies might be putting the implementation of the Paris Agreement in jeopardy by failing to properly report their climate emissions, says a new report.
31 May 18 - Cricket has a responsibility to tackle climate change because the game and its followers have an emotional and physical bond with the land in a way that few other field sports do.
---