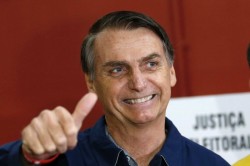 11 Oct 18 - No more Paris Agreement. No more ministry of environment. A paved highway cutting through the Amazon. That's what Jair Bolsonaro will bring to the presidency of Brazil.

24 Sep 18 - New data suggest that flooding in the Amazon River has dramatically increased by as much as five times in both intensity and frequency in the last 100 years.

6 Sep 18 - Brazilian farmers will continue to have access to the world's most-used weed killer after a court reversed a ruling which had suspended the existing and new registration of glyphosate-based products.

6 Sep 18 - Spix's macaw, a brilliant blue species of Brazilian parrot that starred in the children's animation Rio, has become extinct this century, according to a new assessment of endangered birds.

30 Aug 18 - Although almost 40 per cent of the Brazilian Amazon is conserved by protected areas and indigenous lands, some 428,721 sq km has been deforested over the past three decades.

16 Aug 18 - Presidential candidate Jair Bolsonaro is threatening to take Brazil out of the Paris Agreement if he wins the October election.

13 Aug 18 - Brazil has already hit its 2020 targets for cutting emissions from deforestation, according to the government.
---
6 Jul 18 - Venezuela will receive $250 million from the China Development Bank to boost oil production, the South American country's Finance Ministry said.
22 Jun 18 - Bolivian farmers are going underground in order to protect their crops from drought, flash floods and increasing temperatures.
14 May 18 - Costa Rica's newly elected president is vowing to make his country the world's first truly carbon-zero territory.
3 Apr 18 - A new river in Argentina is playing havoc with farmland and roads and even threatening a city – but also highlights the potential cost of the country's dependence on soya beans.
9 Mar 18 - Brazil is seeking to water down prospective climate targets for the shipping sector.
15 Feb 18 - Climate change-induced wildfires are now the biggest source of carbon emissions in Amazon forests.
31 Jan 18 - Chile has created five sprawling national parks to preserve vast tracts of Patagonia – the culmination of more than two decades of land acquisition by two US philanthropists.
30 Nov 17 - São Paulo could face more devastating water shortages if farmers continue to clear the Amazon forest, warns the utility chief who recently steered the biggest city in the Americas from the edge of...
16 Nov 17 - Brazil's recession has earned it an unhappy distinction: it is the only major country in the world where damage to the climate is growing while people are becoming poorer.
1 Nov 17 - Despite Brazil's worst recession in history, national greenhouse gases emissions are estimated to have risen 8.9 per cent in 2016 and reached the highest level since 2008.
31 Oct 17 - In regions of the Amazon where farmers could choose to grow more sustainable and lucrative crops like fruit or vegetables, ranchers persist in their low-income cattle business.
24 Oct 17 - The Brazilian Amazon lost 6,624 sq km of forest between August 2016 and July 2017.
---