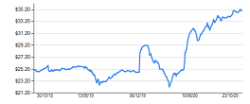 Tuesday - Spot NZUs opened at $35.05 bid and $35.10 offered on CommTrade this morning, after last fixing at $35.07.

Tuesday - Japan's prime minister, Yoshihide Suga, has said the country will become carbon neutral by 2050, heralding a bolder approach to tackling the climate emergency by the world's third-biggest economy.

Tuesday - Twenty-eight countries, one American state and the European Union says they are committed to being carbon-neutral by 2050.

Tuesday - The European Commission will not stand in the way of countries that choose to build new nuclear power stations, said EU climate chief Frans Timmermans.

Friday - The World Bank's private lending branch is indirectly backing one of the world's biggest new coal complexes, despite a new green policy.

Friday - Electric cars will cost the same to make as conventional cars, with internal combustion engines, by 2024, according to new research.

Friday - Forests are the planet's biggest carbon "sink" – absorbing more carbon dioxide from the atmosphere than they emit – but their contribution to cooling the earth's climate is currently not fully accounted for under UN rules, experts say.
---
Thursday - Switzerland has struck a carbon offsetting agreement with Peru, in what the two nations say is the first deal of its kind under Article 6 of the Paris agreement.
Thursday - Australian company directors want a more radical policy reset to recover from the covid-19 recession including bigger investments in infrastructure, reforms of industrial relations and a Green New...
Thursday - European Union farm ministers have clinched an early-morning deal on the post-2020 Common Agricultural Policy, touted as 'a paradigm shift in European food policy'.
Thursday - Once again science has presented evidence that a new geological epoch is here. This human footprint is all our own work.
Thursday - The European Commission will table new EU-wide regulations this autumn to ensure that batteries manufactured or imported into Europe are "the greenest on this planet".
21 Oct 20 - Nights are warmer. So are northern lakes. And farm livestock are at greater risk of disease, thanks to rising heat.
21 Oct 20 - Oil company ConocoPhillips has a problem; it wants to pump 160,000 more barrels of oil each day from a new project on Alaska's North Slope, but the fossil fuels it and others produce are leading to...
21 Oct 20 - Former Australian Prime Minister Kevin Rudd says the spreading of misinformation about climate change and other issues warrants a Royal Commission investigation into Rupert Murdoch's media monopoly.
20 Oct 20 - China has slammed the United States' environmental and climate record, in an extraordinary public attack less than two weeks before Americans go to the polls.
20 Oct 20 - Three weeks after China told the world it is aiming for carbon neutrality, an important study outlines a roadmap to that goal, and challenges along the way.
20 Oct 20 - Current rules on company disclosures to help markets price in risks from climate change will become mandatory, a senior Bank of England official said on Friday.
20 Oct 20 - An influential group of investors is urging UK regulators to make climate risk reporting mandatory for nearly 500 FTSE-listed firms.
---