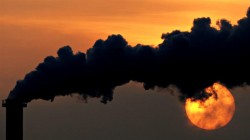 Monday - The Government might increase New Zealand's 2030 emissions reduction target.

Friday - Pacific Aluminium – whose parent company Rio Tinto threatened to leave New Zealand if a carbon price was introduced – is now a fan of the Emissions Trading Scheme.

Wednesday - Access to international carbon credits could lower the cost of decarbonising the economy, the Government has been told.

19 Jun 18 - One in five National Party supporters opposes the idea of New Zealand being carbon-neutral, a recent survey suggests.
15 Jun 18 - The National Party says it will work with the Government to establish a climate change commission.

15 Jun 18 - A document likely to underpin the Government's plans to decarbonise the economy is being called dangerously misleading.

14 Jun 18 - Carbon prices of $50 to $350 a tonne by 2020 will drive investments in low-emissions development of Maori land, creating jobs and alleviating poverty along the way, the Government is being told.
---
13 Jun 18 - Exempting methane from New Zealand's 2050 emissions-reduction target will not stop the country being held liable for it under international rules.
12 Jun 18 - Climate minister James Shaw has invited the National Party to help him to draft the Zero Carbon Act.
8 Jun 18 - New Zealand's tougher stand on climate change is already paying dividends, earning the country support for a free-trade agreement with Europe, says climate minister James Shaw.
8 Jun 18 - The Zero Carbon Bill gives the certainty that has been lacking to tackle one of the biggest problems facing business, says Z Energy chief executive Mike Bennetts.
7 Jun 18 - Carbon prices of more than $800 a tonne will be needed if New Zealand doesn't tackle greenhouse gas emissions from agriculture, the Government has been told.
6 Jun 18 - The Interim Climate Change Committee will investigate the impact of further oil and gas exploration on New Zealand's emissions reduction targets.
5 Jun 18 - Two million hectares of New Zealand farmland could be switched from meat and dairy to more environmentally friendly horticulture, officials say.
5 Jun 18 - Methane – a gas causing New Zealand major headaches as it tries to cut its emissions - should be treated differently from other greenhouse gases, scientists say.
1 Jun 18 - Officials say they will advise the Government on the potential to hedge New Zealand's future carbon liability.
30 May 18 - Local authorities face at least $4 billion worth of infrastructure damage if sea-levels rise 1.5 metres, Local Government New Zealand is warning.
25 May 18 - New Zealanders' expectation of insurance payouts for property affected by the impact of climate change is stopping them from taking action to prevent it, the Government has been told.
24 May 18 - Linking New Zealand's carbon market to the European Emissions Trading Scheme could be part of a new free-trade deal.
---